Evaluate
Weigh the pros and cons of technologies, products and projects you are considering.
Cloud storage options for primary or nearline data
Learn about cloud storage options for primary/nearline storage and some of the new technologies that help bridge the gap between physical data center resources and cloud services.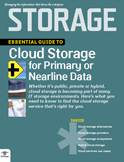 In the beginning, there was confusion. And then, finally, some clarity came to the cloud. Cloud storage concepts, once little more than marketers' hype, have started to coalesce into distinct products and services that are likely to become commonplace in most corporate data storage environments.
Perhaps the most interesting turn of events is that cloud storage isn't considered just for backup anymore -- more and more organizations are evaluating it as a complement to or an integral part of their primary and nearline storage systems.
But cloud storage is still a two-headed beast, or maybe even three-headed if you consider the growing field of hybrid technologies. Internal or private clouds may be seen as a predictable evolution of enterprise storage systems, where IT provides storage services on a utility basis. For these applications, the underpinnings of the storage systems have to support multi-tenancy, provide some form of chargeback services, and scale easily and seamlessly.
The more familiar cloud storage incarnation is the public cloud, which until recently had been exemplified by backup services. Cloud backup has been available for nearly a decade and in recent years has developed to the point where it's a viable alternative for both small- and medium-sized businesses (SMBs) and enterprises, used as the principal backup vehicle or to extend data protection to remote offices. Increasingly, however, organizations are finding that the performance, scalability and cost of a cloud storage service make it equally attractive for nearline or primary storage.
With cloud storage emerging from the backup-only shadows, users have found creative ways of incorporating cloud storage services into their on-premises storage environments. Cloud storage is carving out a solid niche as a cost-effective and convenient repository for archive data, and is even being used as a new or supplementary storage tier. Several vendors -- a small number that's certain to grow -- have broken new ground with hybrid cloud storage products that neatly bridge the gap between installed on-premises storage systems and external services. These appliances hold data locally before dishing it out to the cloud, automatically creating a new tier of off-site data.
The early doubts about cloud storage -- security issues, bandwidth constraints, vendor stability and data protection -- are slowly melting away as service providers refine their products. For storage managers, there are plenty of decisions to make beyond which provider to use, including how to work cloud storage options into current storage operations. We discuss all this and more in our "Essential Guide to Cloud Storage for Primary or Nearline Data."
-- Rich Castagna, Editorial Director of the Storage Media Group
Table of Contents: Essential Guide to Cloud Storage for Primary or Nearline Data
Are cloud storage providers good for primary data storage? SMBs looking to switch to cloud storage all face one question: Should they use the cloud to store primary data? Learn more about the pros and cons of primary data storage in the cloud, and whether it's right for your organization.
Cloud storage ecosystems mature. Within the last year or so, cloud storage enablement vendors have emerged that not only provide a bridge to cloud storage services but bring extended security, availability and portability to cloud storage service provider offerings. Find out the basic feature offerings of these platforms and their use cases.
Hybrid cloud storage. For users having difficulty choosing between the perks of a private or public storage cloud, hybrid cloud storage may be the answer they're looking for. Learn the difference between public, private and hybrid clouds, and get the details on hybrid cloud software and cloud gateways.
Document collaboration: Cloud services use cases for storage resellers. Online backup, disaster recovery and archiving are the typical use cases associated with cloud storage services. What many people don't think of is document collaboration, or sharing work among a group of users spread across a large geographic area. Learn why media production, medical imaging systems and remote sensing applications could all benefit greatly from document collaboration in the cloud.