Share this item with your network: BACKGROUND IMAGE: iSTOCK/GETTY IMAGES
Managing and protecting all enterprise data

3dmentat - Fotolia
Evaluate
Weigh the pros and cons of technologies, products and projects you are considering.
Buyers of NAS boxes think capacity -- and more capacity
While hyper-converged systems and software-defined storage get most of the headlines, users who need capacity are still shopping for NAS systems.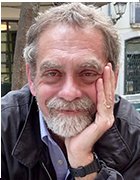 By
Whether a company is doing big data-type analytics or just trying to keep up with users, the amount of data that needs to be stored is soaring. Data growth has traditionally been led by unstructured data, and that still holds true today. To stem the rising tide of unstructured and other data, many storage shops are still actively evaluating NAS systems. According to our latest survey data, 29% of users shopping for storage systems are specifically looking to add a new NAS system to their infrastructure.
By far, the need for additional capacity (73%) is the leading reason why these storage managers are looking to add new NAS boxes. The need for improved performance (30%) came in a distant second among purchasing drivers, just ahead of replacing older NAS boxes (25%). But with only 25% of respondents buying new to replace old, it's clear that we're not looking at a typical tech refresh cycle.
Most of our survey-takers are planning for relatively modest capacities -- the average for planned purchases was 156 TB -- but 13% are eyeing systems with 500 TB or more capacity. Even if they do start out smallish, our buyers are expecting their new systems to grow at an average annual rate of 18%.
Under the hood, our shoppers' systems will primarily hook into 10 Gbps Ethernet networks, as 69% are looking for that level of connectivity. And NFS -- the granddaddy of NAS protocols -- is the choice of 79% of respondents, although the combined total for CIFS (43%) and SMB 3.0 (21%) approaches the NFS number.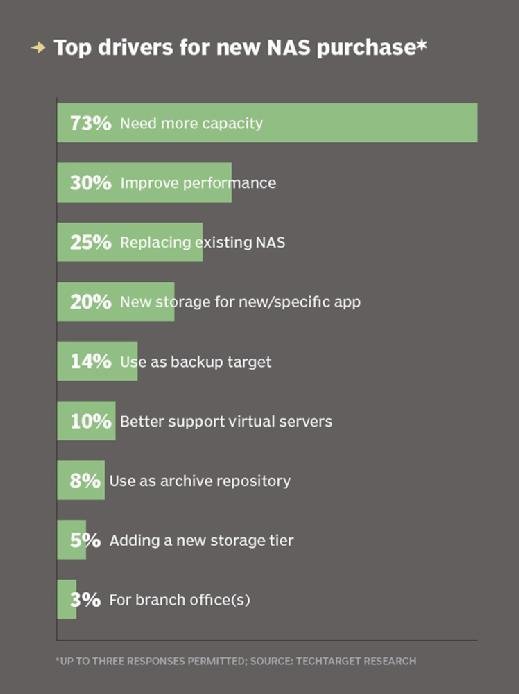 The top three features that respondents consider "critical" to their purchases of NAS boxes are all capacity- and scaling-related: file system size (48%), clustering support (37%) and the ability to scale capacity and performance separately (32%).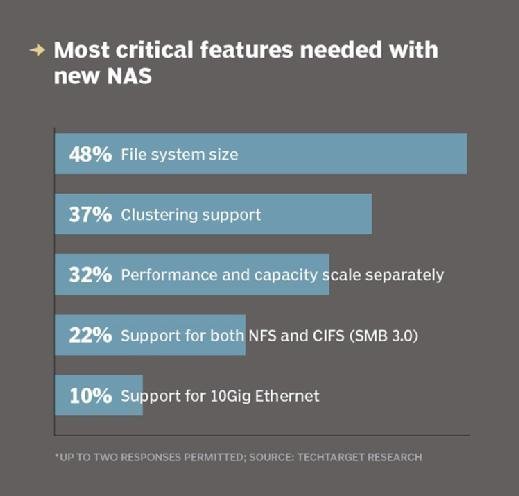 Although NAS is best known as a repository for file and other unstructured data, 59% of respondents indicated that they plan to run databases on their newly acquired NAS boxes. That certainly attests to how much NAS has been improved over the years, as it's now nudging into block-storage territory.
The logos that shoppers of NAS boxes are most likely to look for include NetApp, Dell, EMC, HPE and IBM.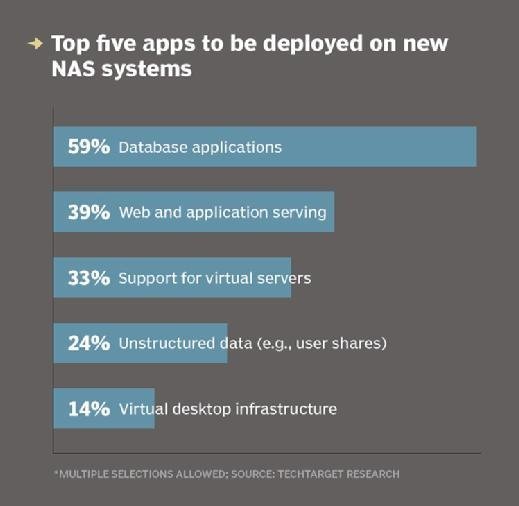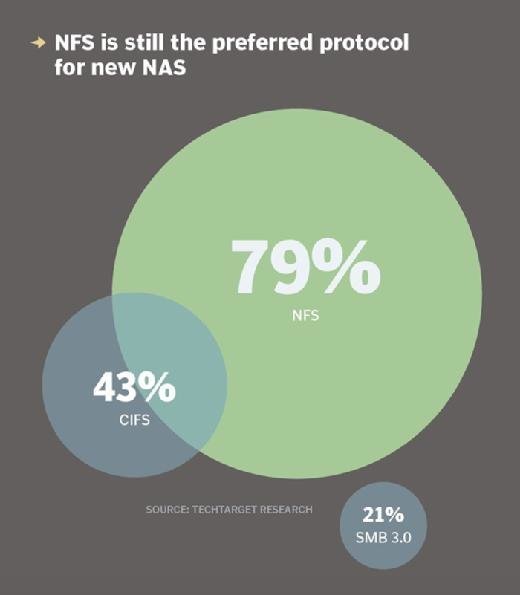 Dig Deeper on Storage market research reports