Manage
Learn to apply best practices and optimize your operations.
Big pay for storage jobs, page 7
Find out what other storage professionals are being paid in this year's salary survey.
Promising outlook (continued from page 6)
As a group, respondents expect an average salary increase of 3.4% next year, which is in line with what compensation experts say IT workers are likely to receive. Comparing actual 2005 and 2006 salaries from this year's respondents yields an average increase of 6.6% for this year, and suggests that storage workers generally see 2007 as less lucrative with smaller annual increases.

Again comparing actual 2005 and 2006 average salaries, workers in the IT services sector saw their checks grow the most (by 10.4%), followed by media/ publishing (10.1%). Those two industries also ranked in the top three for increases in last year's survey. At the other end of the spectrum, the lowest actual increases were for utilities (2.5%), government/non-profit (3.8%) and wholesale/retail (3.9%) (see "Salary increase from 2005 to 2006 by industry"). "Pretty much across the board it's limited to 4% or 5% per year," Bartels says. "[It's] not much higher than that."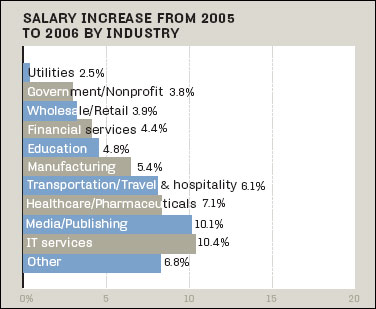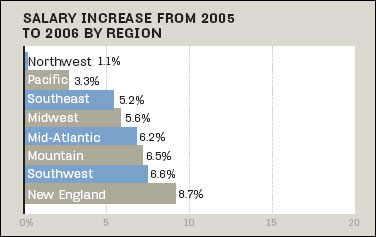 By region, New England storage pros enjoyed the biggest salary increases at 8.7%; last year, the Southwest had the highest increase percentage by far with a very healthy 10.1%; Northwest storage pros reported the lowest increase—a meager 1.1% -- over their 2005 pay levels (see "Salary increase from 2005 to 2006 by region").
All in all, it was a very good year for storage professionals, and given the growth of storage at nearly all companies, 2007 and beyond should prove to be even better. In short, storage careers look very promising right now. Foote says: "These are the places to go for some job security."
Bio: Rich Castagna (rcastagna@storagemagazine.com) is Editor-in-Chief of Storage.
Continue to read how the survey was developed, final page
Dig Deeper on Data storage management