Manage
Learn to apply best practices and optimize your operations.
Big pay for storage jobs, page 6
Find out what other storage professionals are being paid in this year's salary survey.
So-so perks (Continued from page 5)
Regardless of what you do, who you do it for and where you do it, the perks are getting less perky each year. The trend -- not just in storage or IT -- is to fold what was once icing on the cake into the cake batter itself. That means salaries tend to include in their base amounts what would have been considered extras in years past.

Foote refers to those salary premiums as "skills pay." For example, positions for noncertified SAN specialists are "paying between 10% and 14% of base pay as a premium," he says. He adds that the people who get "adjustments to pay based on their skills" are "usually people whose titles don't match what they do."

Stock options—once a symbol of the get-rich-quick Internet boom -- are increasingly rare for storage professionals. This year, only 17.5% of respondents say they get options as part of their compensation package; this is the lowest percentage reported in the four years we've conducted this survey.

The bonus picture looks a little brighter, although some compensation experts say bonuses, like stock options, are on the endangered species list. But more than three times as many respondents (60%) expect bonuses of some amount vs. those receiving stock options. In this year's survey, respondents received an average bonus of $6,139 last year, more than $600 higher than what last year's survey takers said they expected for 2005. This year's group is also optimistic about 2006 bonuses, estimating an average year-end windfall of $7,561.

PharmaCare's Bartels credits his company's annual bonuses of about 8% to 11% for helping to retain storage staff. "We have a very low turnover," Bartels says, "and I would hazard to guess it's because of the healthcare business and the bonus plan."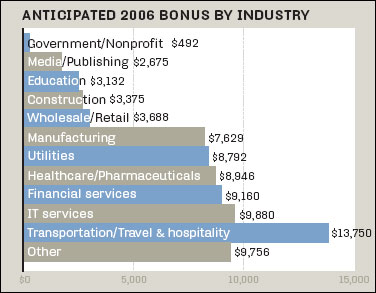 Storage professionals plying their trade in the transportation/travel and hospitality industry were most optimistic, with their expectations set for an average bonus of $13,750 this year (see "Anticipated 2006 bonus by industry"). Among other industry sector workers, those most likely to see bonus checks are in IT services, financial services, healthcare/pharmaceuticals, utilities and manufacturing; if you work in government/ nonprofit, media/publishing, education and construction, you're least likely to get a bonus in 2006.
Geography also appears to play a role in determining the likelihood and size of bonuses. On a regional basis, respondents' anticipated bonuses for this year range from $11,063 in the Southwest to a far more modest $1,438 in the Mountain region. When viewed year over year, the only consistent factor is that Mountain region storage professionals reported the lowest bonus expectations for both 2005 and 2006 -- maybe living and working in the shadow of the Rockies could be considered bonus enough.
Dig Deeper on Data storage management