Manage
Learn to apply best practices and optimize your operations.
Big pay for storage jobs, page 5
Find out what other storage professionals are being paid in this year's salary survey.
For whom and where you work matters (continued from page 4)
It's hard to pin down a particular industry as having the greatest opportunity for storage professionals because, according to our surveys over the last few years, top paying jobs have shifted among different industries. For example, last year the highest paid storage pros worked in the media and publishing sector, while in the most recent survey healthcare/pharmaceuticals came out on top with an average salary of $87,716.

Still some of the results were consistent year over year; for 2005 and 2006, healthcare/pharmaceuticals, utilities and IT services finished in the top five as the highest paying industries. But before you start updating your resume, it should be noted that the salary difference between the No. 1 industry for 2006 and the fifth is approximately $5,000 -- making them closely bunched.

Just like last year, storage workers in the construction and education sectors reported the lowest average salaries. While some of those numbers might seem discouraging, a few experts, like ESGI's Scott, see plenty of opportunity for storage specialists. "I don't think there's an industry out there that isn't looking for better ways to manage and use information," he says.

Geography is always a factor in determining salaries, so it stands to reason that pay will be higher where the cost of living is higher. For the most part, our survey bore that out, with the top average salaries reported for people working in the mid-Atlantic ($89,395), New England ($85,483) and the Northwest ($82,800) (see "Average salary by region"). The only surprise was for salaries in the Pacific region, where the average salary is $76,000; this is low in comparison to other regions, but still well in line with the cost of living on the West Coast. Last year, the mid-Atlantic led the other regions, but with an average salary nearly $7,000 less than this year.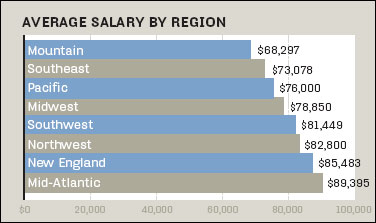 Work -- even storage work -- doesn't necessarily have to consume one's life, so quality of life is another issue. CPAmerica's MacKay realizes that he could make more in a larger town, and would probably see more frequent raises. "But I like living here," he says. "I'm a longtime Gator fan -- I went to the University of Florida."
The good news is that salaries were up in all but two regions of the country when average salaries in 2006 are compared to those reported in 2005. The Northwest saw the biggest hike at 9.6%, followed by New England (8.7%) and the mid-Atlantic (7.7%). The only two regions that evidenced a decline were the Pacific region with a 4.6% drop in average salary, and the Midwest with a modest dip of less than 1%.