Manage
Learn to apply best practices and optimize your operations.
Big pay for storage jobs, page 2
Find out what other storage professionals are being paid in this year's salary survey.
It pays to be dedicated and big (Continued from page 1)
For the most part, those delegated with management or administrative tasks involving storage have other responsibilities, such as server or network duties. Most of the respondents say they work in groups that aren't dedicated totally to storage; 39.6% report that they work at a company with a dedicated storage staff, which is approximately the same as last year's figure (40.8%). Dedicated storage groups are still a novel idea in most companies, says Evan Scott, founder of Evan Scott Group International (ESGI), an IT executive search firm headquartered in Plymouth Meeting, Pa. "Most of it's tucked in" with other IT disciplines, he says, because "no one can figure out the business model." For Dennis Preston, senior Unix administrator at Comverse Technologies in Denver, storage activities are spread around a team of approximately 15 staffers. But "it's changing quickly," says Preston, and he expects one or more staffers to be fully dedicated to storage soon.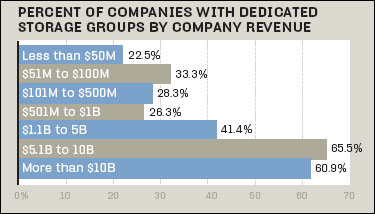 Working for a larger company (as measured by revenue), considerably increases your chances of working in a dedicated storage group. Nearly 63% of companies with revenue greater than $5 billion indicate that they have formal storage groups (see "Percent of companies with dedicated storage groups by company revenue"). And working in one of those committed storage support groups apparently has its rewards; the average salary for a storage pro in a dedicated storage organization is $83,858, which is slightly higher than last year's $82,136 (see "Average salary by type of storage organization").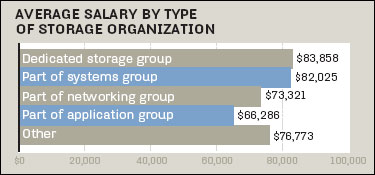 Generally, the bigger your company is the more you'll get paid. Companies with annual revenue in the $5.1 billion to $10 billion range tend to be most generous, with an average salary of $94,588 for their storage professionals; this is considerably higher than the $87,059 reported last year for the same size companies. Oddly, for both this year and last, there was a slight drop-off in salaries at companies with annual revenue greater than $10 billion; this could mean that these firms have larger storage staffs and thus somewhat lower salaries.