Share this item with your network: BACKGROUND IMAGE: iSTOCK/GETTY IMAGES
Managing and protecting all enterprise data

iSTOCK/GETTY IMAGES
Manage
Learn to apply best practices and optimize your operations.
2013 shaping up to be a 'decent' year for IT data storage spending
IT data storage is always a struggle, but storage managers should have a little more money in 2013 to spend on techs that can help ease the crunch of growing capacity demands.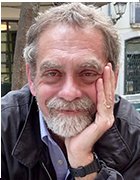 By
IT data storage is always a struggle, but storage managers should have a little more money in 2013 to spend on techs that can help ease the crunch of growing capacity demands.
There's a lot going on with IT data storage these days. There's the usual stuff that'll keep a storage manager from a good night's sleep, like finding a place to put more and more terabytes of data, providing snappy access to it and then making sure it's protected. And against a rising tide of storage capacity woes, come new demands on performance as near-instant analytics take center stage.
And it really is a rising tide, as any data storage shop will attest. But the good news is that vendors are providing new tools and improving older ones for storage managers who need to build out their IT data storage toolkits.
About the survey
This is the eleventh year we've fielded the Storage magazine/SearchStorage Purchasing Intentions survey. Storage magazine subscribers and SearchStorage members are invited to participate in the survey, which gathers information related to storage managers' purchasing plans for a variety of storage product categories. This edition had 710 qualified respondents across a broad spectrum of industries, with the average company size measured as having revenue of $1.2 billion.
Each year we survey hundreds of storage pros who come up for air just long enough to tell us what technologies they're currently using or planning to add to their arsenals in 2013. On average, our respondents report that their companies oversee 1.5 petabytes of data on all forms of media, stored in-house and externally. That's a lot of data to keep track of—here's how they're doing it.
Storage budgets increase modestly
One of our most closely watched indicators of the health of storage shops, and the data storage market in general, is how storage budgets fare when compared to the previous year. Back in the good old pre-recession days, it was common to see budgets rise by 3%, 4% or more, but more modest increases are appreciated as much these days.
Our respondents tell us their storage budgets will rise 1.5% over last year's levels, the same increase we saw last fall. Not a huge increase -- maybe just barely keeping pace with inflation -- but an increase nonetheless. Coupled with declining prices, that modest increase will allow storage managers to toss a few more items into their shopping carts.
While the budget number itself might change, the way it's likely to be spent won't vary much from previous years. Storage hardware will take the biggest bite (36%), with maintenance (13%) and software (12%) also snapping up substantial shares.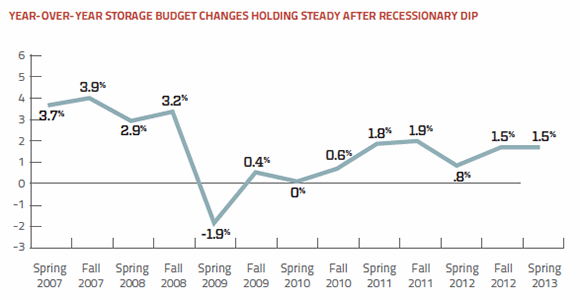 Key stat
$2.4: The average storage budget, in millions, reported on our survey.
Deeper dive
Thirty-eight percent of companies report their storage budgets will rise in 2013.
Budgets at larger companies -- those with more than $1 billion in revenue -- will grow by 3.4%.
Big companies also have a lot more to spend on storage: $7.4 million.
Capacity growth requires new efficiency measures
Our respondents are engaged in an all-out battle with storage capacity. In addition to petabyte-scale numbers for total data stores, they maintain increasing amounts of "live" storage that may be needed at any time. The average installed disk capacity is 306 TB, and this year respondents say they expect to add approximately 43 TB of new disk storage, about the same amount that has been added each year for the four post-2009 years.
Of the companies shopping for storage systems, 47% will opt for midrange arrays; high-end gear is more of a niche purchase with only 13% planning purchases. About a third (32%) have their eyes on low-end storage systems that have steadily acquired higher end features.
A trend we first identified nearly six years ago appears to be continuing in 2013: more storage systems purchases will be for new drives (36%) to fill out existing systems than for new iSCSI SANs (14%), network-attached storage (NAS) systems (14%) or Fibre Channel SANs (13%).
To make better use of new and old capacity, storage shops will use a variety of efficiency technologies, including thin provisioning (41%), tiering (32%), primary storage dedupe (29%) and data compression (21%). Nearly as many companies are evaluating these technologies.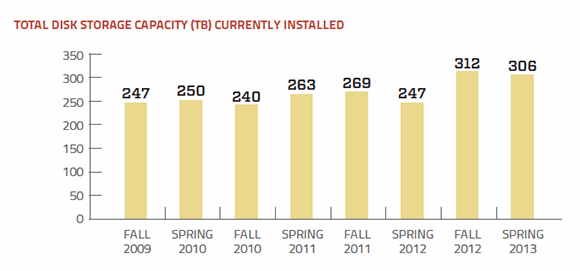 Key stat
63%: Respondent firms that currently have NAS systems installed.
Deeper dive
Five years ago, 27% of the firms surveyed were using iSCSI storage; today 48% do.
Plain old file servers still top file storage purchase plans (26%); 21% plan to buy NAS.
Twenty-four percent (an all-time high) say price is the most important buying criteria for storage systems.
Solid-state shaping up as storage game changer
When we first asked about solid-state storage approximately three-and-a-half years ago, only 8% of those surveyed said their companies were using it. Today, 34% of companies have solid-state storage installed somewhere in their environments, with another 8% planning to add it this year and 31% evaluating.
Most of the deployments (69%) are solid-state mixed with hard disk drives in a hybrid array arrangement, but 45% have installed it directly into their servers (PCI Express or SAS/SATA form factors) and 21% use caching appliances built around solid-state. Forty percent of companies have treated some end users by installing the high-performance stuff in their desktops or laptops.
At the other end of the scale, in 2009 54% of companies said flat-out they didn't have any plans for adding solid-state. In our latest poll, that number has been cut in half (27%). But the reasons for not taking the solid-state plunge haven't changed much over the years: non-users cite the cost of solid-state storage (66%) and satisfaction with the performance of their hard disk systems (47%) as the main reasons for eschewing solid-state at this time -- about the same numbers we saw three years ago.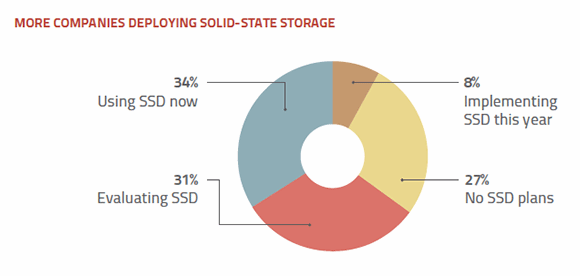 Key stat
9.1: Terabytes of solid-state storage currently installed on average.
Deeper dive
Companies planning to add solid-state storage will purchase an average of 6.2 TB in 2013.
Thirty-five percent of companies have more than 10 TB of solid-state currently installed.
Six percent of respondents will add more than 20 TB of solid-state storage this year.
Cloud storage offers a new tier
Although still cautious, storage shops are increasingly looking to cloud storage services as an alternative or augmentation to in-house storage systems. While the number of users has dipped a bit over the last year, adoption of cloud storage is still moving forward: in 2010, only 14% of those surveyed were using some form of cloud storage; today, 22% are cloud users.
While backup is by far the most mature of the cloud storage services, our respondents are using the cloud for other types of storage as well, with disaster recovery (DR) leading the way. DR in the cloud could end up the "killer app" for cloud storage (along with traditional backup, of course). When combined with the ability to spin up virtual servers using a cloud computing service, cloud DR can offer extremely inexpensive, almost immediate recovery from crippling circumstances.
Current cloud storage users appear to be pretty satisfied with their experiences so far: 94% plan to expand their use of cloud storage services. Non-users are also getting on the bandwagon, with only 40% ruling out adding cloud storage to their environments this year.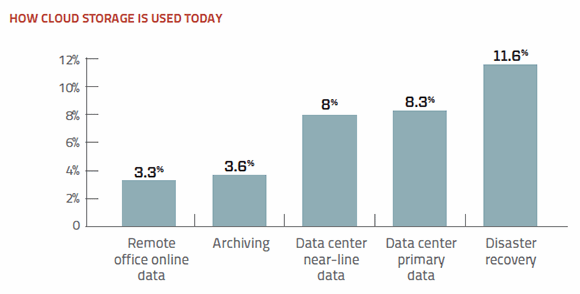 Key stat
17 TB: Average amount of data users have stored in cloud storage services.
Deeper dive
Thirty percent of current users have more than 20 TB of data in the cloud.
Fifteen percent of respondents say their companies use file sync-and-share services; 6% use public services; and 9% have implemented in-house sync and share.
Private storage clouds have been implemented by 18% of respondents.
Backup evolving, but still a tough job
For most companies, changing their backup operations is no easy feat, which is why so many firms will wait patiently for their incumbent backup vendors to come up with new technologies to avoid "forklift upgrades."
Although using disk systems for backup has been in vogue for long enough that it might even seem passé (especially considering cloud options), companies are still investing in their disk backup infrastructures. With 38% planning to increase spending and another 38% likely to spend as much as last year, there should be plenty of activity in the backup market.
Data deduplication for backup is still a hot technology even though it seems to have been around for ages. More than a third of companies plan to up their dedupe spending, which should add to the installed base of around 40% of all companies. And other mature technologies, like continuous data protection (CDP), are still under consideration by many companies. With its potential to bring radical change to traditional backup operations, CDP is starting to get some serious attention: 22% cite plans to increase CDP spending in 2013.
No discussion of backup would be complete without mentioning tape. Sadly, tape's role continues to dwindle, with 40% saying they'll reduce the role tape plays in backup operations -- the highest number we've ever seen.

Key stat
13%: Respondents that say they'll increase the role of tape in their backup systems -- the all-time lowest number we've recorded.
Deeper dive
Tape libraries are shrinking; the average library will have an average of 84 slots versus 130 slots six years ago.
Fifty-eight percent of those surveyed will spin off some or all of their backup data to tape (versus 79% three years ago).
Backing up to a NAS target is the most popular disk-to-disk method (44%).
New data protection concerns: cloud and mobile
Bring your own device (BYOD) may morph into "bring your own disaster" if storage managers don't take mobile device data protection more seriously. Sure, it's a relatively new problem and retooling backup takes time, but according to our survey the vast majority of mobile devices are roaming the data wilderness unprotected.
The best-protected end-user computing devices are desktop PCs, and the term "best" is relative: 59% of respondents said desktop backup either isn't done at all or is left up to the user. And it gets a lot worse -- 63% of laptops are similarly at risk. For smartphones and tablets, the new darlings of the mobile set, there's scant protection: 14% of tablets and 11% of smartphones are protected using traditional backup apps, specialty apps or the cloud.
The cloud has become a convenient target for backups as most apps and some hardware devices can ship backup data straight to a cloud service. Twenty-eight percent of respondents are using the cloud for some or all of their backups, somewhat lower than the 30%-plus marks we saw last year. Email is still the most popular app for cloud backup, no surprise considering how easily email services can be outsourced. Cloud backup is poised for growth: 39% will increase spending in 2013 while 57% will continue to spend at 2012 levels.
Key stat
8 TB: Average amount of backup data users have stored in the cloud.
Deeper dive
Thirty-eight percent of cloud backup users have more than 10 TB of data in the cloud.
Non-cloud backup users will get onboard in 2013, with 9% signing up for email backup.
Among those not yet using cloud backup, 22% say they're evaluating the services.
Users and their storage adjusting to virtual servers
Virtual server environments have created problems for storage shops from Day 1, ranging from performance bottlenecks to backup woes. Things have settled down significantly in the last few years with both hypervisors and storage systems getting some adjustments.
The most widely used storage for virtual servers is still Fibre Channel SAN, but its once imposing lead has dwindled to a mere 2 points over iSCSI block storage. Cheaper and easier to implement in virtual environments, iSCSI offers an alternative that at least seems simpler than the more sophisticated Fibre Channel systems. A couple of years ago, a third of respondents said virtual servers made storage management more difficult; now, only 24% feel that pain, although 65% still say server virtualization consumes more storage.
Backup for virtual machines (VMs) is also a lot easier now. Three or four years ago, nearly a quarter of respondents were still using the fairly awkward VMware Consolidated Backup (VCB) to back up VMs. VCB has been surpassed by specialty backup apps designed specifically for VMs: 16% say they're using those apps compared to only 6% three years ago.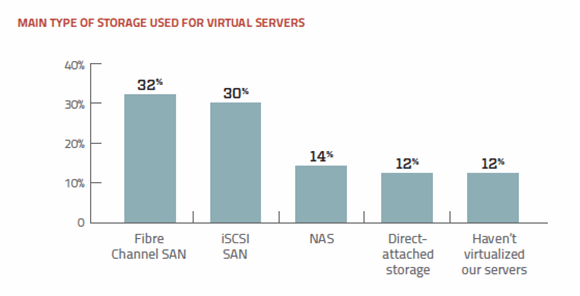 Key stat
41%: Respondents who replied "no problem" when it comes to backing up virtual servers.
Deeper dive
Management app shopping: 43% say they'll look for tools to better manage storage for VMs.
Solid-state to the rescue: 35% are using solid-state storage to pump up their virtual desktop installations.
The biggest problem with backing up VMs is backing up too much data (13%).
Hot techs on storage managers' radar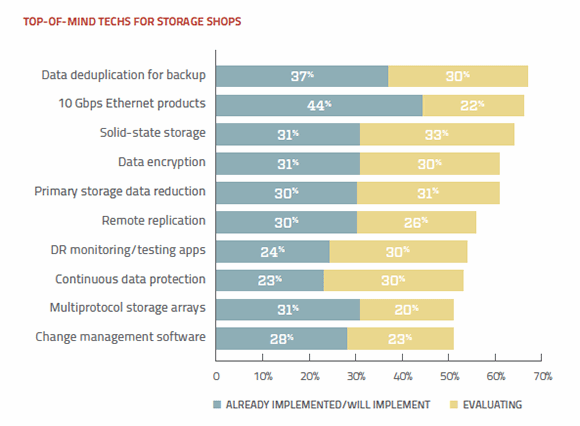 For the last five years, no single technology has been able to hold the top spot in our survey as storage shops test and implement a range of storage technologies. This year data deduplication came out on top followed by 10 Gbps Ethernet, which had high marks for actual/planned implementations. Solid-state storage is also near the top, its ranking boosted by the amount of evaluation activity. The most puzzling entry may be encryption; it always finishes near the top while nearly 50% of companies have yet to seriously implement it.
About the author:
Rich Castagna is editorial director of TechTarget's Storage Media Group.
Dig Deeper on Storage market research reports