Red Hat Storage Server seeks to mimic success of enterprise Linux
We asked three leading storage analysts a set of questions to explore Red Hat's chances with its storage server software. Find out what they had to say about Red Hat's hopes of success.
Introduction
Red Hat Inc. played a major role in transforming the open source Linux operating system from a minor consideration to a mainstream choice for enterprise servers during the last decade.
Now that the Raleigh, N.C.-based company is expanding into software-based data storage with Red Hat Storage Server -- again with open source technology at its core -- the natural question is: Can it achieve a similar level of success?
Ranga Rangachari, vice president and general manager of Red Hat's storage business unit, equated the current storage situation to the server market of a decade ago, when vendors such as Hewlett-Packard Co., IBM and Sun Microsystems Inc. each sold Unix variants running on proprietary server hardware. He said organizations using traditional storage are "trapped with a proprietary piece of hardware with thin-wrapped software that they just can't decouple."
Rangachari said he recently visited a customer that wanted to upgrade their proprietary storage software only to discover from the salesperson that they would also need to update the storage controllers. A $50,000 project turned into a million-dollar undertaking, he said.
"That's the problem that enterprises are facing today," Rangachari said. "What Red Hat Storage is all about at a very high level is driving community innovation around storage, where the intelligence is in the software, and then taking advantage of the volume economics that an industry-standard x86 server provides."
Red Hat Storage Server software is designed to run on commodity server hardware that can scale through the simple addition of nodes. The company acquired Gluster Inc. in October 2011 and formally launched its Red Hat Storage Server software the following June.
At its annual summer event in June 2013, Red Hat announced the integration of Red Hat Storage and Red Hat OpenStack, which includes Swift object storage and Cinder block storage. The news followed an April announcement that the company's supported OpenStack distribution had advanced from preview to early adopter status. Red Hat is a major contributor to the community that develops OpenStack cloud technology.
"Most enterprises are not just going to use the open source version of OpenStack," said Sayan Saha, manager of product management for Red Hat Storage. "They are going to source it from a vendor, be it Red Hat, be it somebody else. And when you get Red Hat OpenStack, it will come with a whole bunch of certified platforms, and we obviously bring Red Hat Storage, [which] will be integrated really well with that."
We asked three leading storage analysts a set of questions to explore Red Hat's chances with its storage server software, which is based on the open source GlusterFS scale-out file system, and its distribution of the open source OpenStack cloud computing and storage platform. Please check out the links below to find out what they had to say.
1

Stalwart leader needed

-
IDC's Nadkarni predicts mainstream acceptance
International Data Corp.'s Ashish Nadkarni said the community will need a standard distribution of OpenStack and firms such as Red Hat to maintain and support it to ensure that development efforts don't fragment. He predicted that, with its Gluster-based product, Red Hat will bring about mainstream acceptance of software-based storage, running on commodity hardware, in the same way it achieved success with Linux in the face of competition from heavyweights such as HP, IBM and Sun.
Podcast
IDC analyst Nadkarni predicts Red Hat Storage will challenge scale-out, file-based storage systems from major vendors as well as combined compute-storage platforms that cater to the high-performance computing market with data analytics software. Continue Reading
2

A little help from my friends

-
Wikibon's Floyer: Manageability work needed
According to Wikibon's David Floyer, "software-led storage" will be "the way of the future," and Red Hat will be one of the players that will drive down the costs of storage. He said Red Hat's GlusterFS will need more detailed and sophisticated management capabilities before it can achieve the sort of commercial success that enterprise Linux did. He added that OpenStack Storage's acceptance will also require an ability to orchestrate and automate at a control level in line with the application.
Podcast
While Red Hat will play a role in driving down the costs of features, such as replication and thin provisioning, major vendors will also contribute to the IT world accepting software-defined storage, Floyer said. Continue Reading

Download this free guide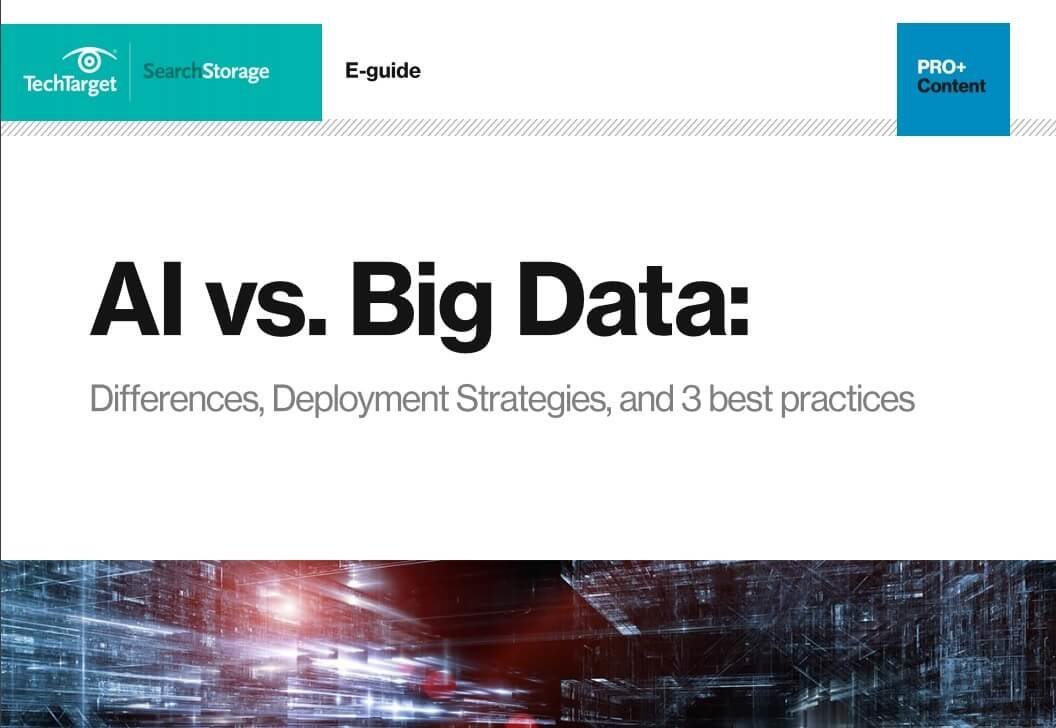 AI or Big Data, What's the Better Fit for Your Business?
Though similar in some ways, the two play vastly different roles in your storage system. Do you know what's the best option for your business, or how you can put it into practice? Read this guide to find these answers, as well as a framework for finding success with AI in your storage architecture.
3

Role in passive data market

-
Staimer foresees limited appeal
Dragon Slayer Consulting's Marc Staimer expressed skepticism about a storage model, such as Red Hat's, in which customers can buy the storage software and hardware from different vendors. For active storage, customers tend to want support from the same vendor to prevent finger-pointing in the face of problems, he said.
Podcast
While Red Hat GlusterFS is fine for secondary data storage, it will need to find some partners who will shrink-wrap it with hardware before it can gain acceptance in active storage, according to Staimer. Continue Reading