Get started
Bring yourself up to speed with our introductory content.
Predictive storage analytics, AI deliver smarter storage
The future of storage lies in strategic use of analytics, particularly predictive storage analytics, AI and machine learning. Find smarter data storage in an array near you.
Introduction
Storage is getting progressively smarter as analytics capabilities are increasingly integrated into arrays and other parts of the storage layer. Predictive storage analytics, AI and machine learning are coming together to enhance and optimize storage infrastructure and proactively address problems.
Behind the move to more intelligent storage is the increasing use of all-flash arrays (AFAs) and hybrid and hyper-converged infrastructure, along with the greater demand for real-time data on storage capacity and performance.
"Storage is no longer a separate slice of the data center technology stack that you can intelligently manage or analyze in isolation. Looking at larger slices of the stack requires the use of more sophisticated analytical approaches over bigger data," said Mike Matchett, analyst at Small World Big Data.
Storage vendors are gathering vast amounts of data from their customers and applying data mining, analytical queries and predictive modeling to these aggregated data sets to forecast trends. They're feeding the resulting analysis back to their customers to help them plan infrastructure, reduce overhead and proactively address problems before they happen.
AI and machine learning have been added into the predictive storage analytics mix, to continually improve data collection tools and data analysis. The end result is self-healing storage infrastructures that autonomously identify and resolve issues, providing better capacity management, reduced downtime, and increased application availability, performance and productivity.
Below, we've pulled together insight into the current state of storage analytics, along with a look at how some enterprises are using new techniques and technology to make their storage infrastructure smarter. We also take a look at the roles AI and machine learning are playing. And if you're curious about the vendors that are active in this market and what products are available, we've included the latest updates on the vendors and the products they're offering.
1

State of storage analytics

-
Guidance and use cases
Learn how the use of all-flash arrays, predictive storage analytics, AI and machine learning are combining to make storage faster and smarter.
2

AI and better storage

-
The latest insight and strategy
See how AI is being integrated into storage technology and providing unique insight into capacity and performance.

Download this free guide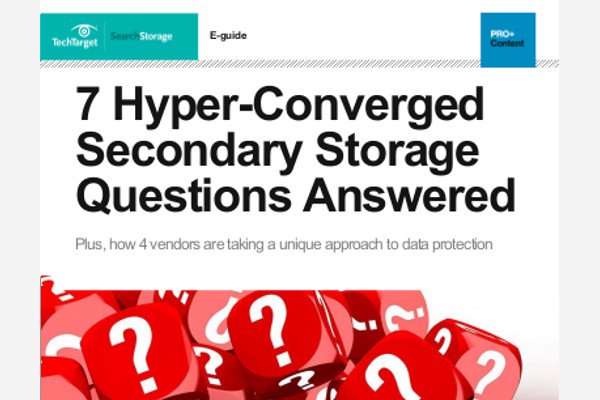 7 Hyper-Converged Secondary Storage Questions Answered
In this expert guide, receive answers to 7 fundamental questions, an analysis of Asigra, Cohesity, HPE and Rubrik hyper-converged secondary storage products, key benefits of converged secondary storage and cautions and much more.
3

Vendors

-
The predictive analytics and AI market
Find out which vendors are offering intelligent storage products and how those products might help your organization.
4

Glossary

-
A list of essential definitions
Learn some of the key terms regarding predictive storage analytics, AI and machine learning.
5

Quiz

-
Test your predictive storage analytics knowledge
Predictive analytics is a key technology behind smarter storage. How much do you know about it?
Take this quiz