 BACKGROUND IMAGE: iSTOCK/GETTY IMAGES
Looking at NVMe storage technologies today and tomorrow
Editor's note
For many businesses, fast access to stored data is vital. In these cases, NVMe storage is either a welcome luxury or a critical need.
The nonvolatile memory express protocol connects storage devices to the central processing unit via the PCIe bus connection. It is currently the fastest way to move data from storage to processing. For applications that need that kind of speed, NVMe storage is the best choice. But is it a worthwhile option for those organizations that don't really need such zippy performance?
The argument that storage can't be too fast doesn't apply in a business world where every dollar spent must be justified with a dollar return. That said, NVMe storage has quantifiable benefits for most organizations.
The value of fast data access is universal. Speed matters for communications as simple as making sure webpage content loads before the viewer clicks away, or as complex as a financial transaction where a microsecond difference can mean the gain or loss of thousands of dollars. In any business situation where data access speed can equate directly to an increase in revenue or decrease in loss, NVMe is worth considering.
Arguments both for and against adoption of NVMe have merit, and it's important to look at where the market stands today before making any purchase decisions. You can't enjoy the NVMe game if you don't know the nonvolatile players. In addition, the future for NVMe-based technologies is bright, and some connected technologies might meet your storage needs.
Understanding the relatively new world of NVMe storage via a handful of useful definitions will help you parse out the value to your organization. Get to know NVMe storage with this guide.
1

Possible futures for NVMe-based technologies

New technologies and business use cases indicate a bright future for the speedy NVMe protocol and its related technologies.
2

NVMe in the now

If you are considering using NVMe in your storage infrastructure, knowing the benefits and drawbacks of various technologies and applications is important.

Download this free guide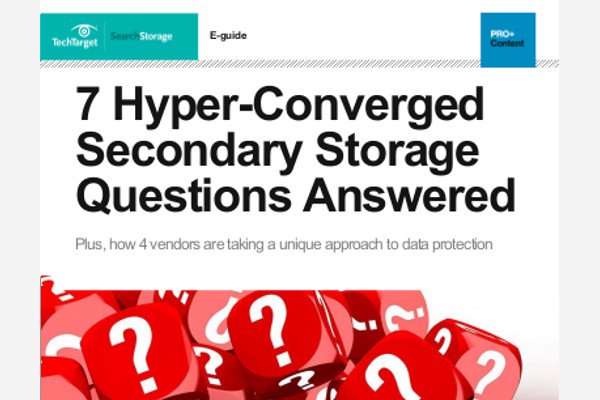 7 Hyper-Converged Secondary Storage Questions Answered
In this expert guide, receive answers to 7 fundamental questions, an analysis of Asigra, Cohesity, HPE and Rubrik hyper-converged secondary storage products, key benefits of converged secondary storage and cautions, and much more.