NVMe storage know-how for an easy and optimized transition
Editor's note
For many businesses, speedy access to stored data is vital. NVMe is the fastest way to move data from storage to processing. When it comes to applications that need speed, NVMe storage is the best choice, and it's quickly becoming a realistic option for many organizations.
With this guide, you'll find out who the NVMe storage early adopters are and how they're using the technology. We also look at initial steps to take to start transitioning to the technology, missteps to avoid and strategies to pursue to optimize NVMe implementations.
Looking further out, we examine how NVMe-oF will deliver the technology's performance advantages across the data center over a network fabric.
1

NVMe adoption, early users and use cases

Early adoption of NVMe storage is taking hold in hyperscale data centers. It's also used to shave a few microseconds off financial trades and to boost database response times in healthcare and other application workloads with high I/O requirements. Several storage vendors have all-flash enterprise arrays with NVMe media on the market in anticipation of 2019 being the year adoption of the technology starts to take off. Some also have arrays that exclusively use NVMe U.2 SSDs.
2

Making the transition to NVMe storage

For most companies, the transition to NVMe will be a multistep process. How badly an organization needs NVMe's low-latency performance and speed will drive the transition, along with the availability of the products and technology to meet those needs. Learn what early steps to take in transitioning to NVMe drives and all-flash NVMe-based arrays, as well as misconceptions and missteps to watch out for.

Download this free guide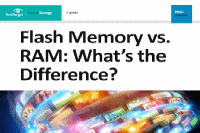 Download Now: Flash Memory vs. RAM: What's the Difference?
In this guide, explore the differences between flash memory and RAM. Plus, discover how quad-level cell (QLC) and triple-level cell (TLC) NAND flash memory are coexisting in the data center.
3

How to get the most out of NVMe technology

NVMe infrastructure can be optimized to improve performance. For instance, all-flash arrays that offer end-to-end NVMe connectivity can maximize performance. You can also use virtualization and storage tiers to target NVMe performance where it's most needed. It's important to be aware of storage infrastructure components, such as file systems, that can become bottlenecks to optimum NVMe performance. The recently added NVMe Management Interface specification will also help with drive management.
4

Next step: NVMe over Fabrics

The next step with NVMe storage adoption is for enterprises to deliver the technology's high speed and low latency over a network fabric. Three NVMe fabric implementations are available: NVMe over Fibre Channel; NVMe over remote direct memory access; and NVMe over TCP. Most enterprises will choose which NVMe fabric will best suit their needs based on their existing network architecture. The articles in this section examine some of the questions and concerns this emerging technology is raising.