Get started
Bring yourself up to speed with our introductory content.
Complete guide to server-based storage in its modern forms
Server-based data storage is gaining renewed attention as emerging technologies offer easy ways to pool and share the highly scalable storage resource. Hyper-convergence may be leading the charge, but it is not the only option.
Introduction
Technologies like hyper-convergence and software-defined storage have brought server-based storage back to the forefront for shareable storage.
With the explosive growth in unstructured data, organizations are scrambling to nail down a storage method that is easy to implement and upgrade and allows them to maximize capacity resources. The advent of cloud storage also plays a part in the renewed interest, and server-based data storage has cemented itself as the favored storage infrastructure of cloud providers. Cost is another compelling factor for direct-attached storage (DAS). By using commodity servers and directly attached disks with software that can create a shared storage pool, more open platforms are able to offer server-based storage at a lower price than traditional storage systems.
Hyper-convergence has made a splash lately, combining storage, compute, virtualization and networking into one package. However, unlike a converged architecture, the components of a hyper-converged appliance are so well-integrated that they cannot be separated or used independently.
Other server-based storage methods include virtual storage appliances (VSAs), distributed file systems and server SANs. In this guide, we will dive into the different options for direct-attached storage and understand where they work best.
1

Appliance options

-
Hyper-converged products
Particularly in virtual environments, hyper-convergence is a popular server-based storage option. Though some question the hype surrounding the technology and its recent emergence in the storage space, there is no question that the use cases and vendor offerings for hyper-converged storage technology are growing. In this section, gain a better grasp of the benefits of hyper-converged storage appliances and what is available on the market.
2

Software

-
Hyper-converged and software-defined storage
On the software side, hyper-convergence is joined by software-defined storage in the server-based data storage space. With the dual benefits of flexibility and scalability, software is not to be overlooked. This section digs into hyper-converged software options and software-defined storage.

Download this free guide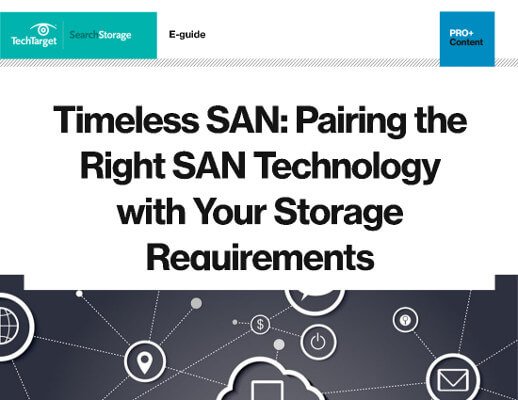 PDF: Fibre Channel vs. iSCSI SAN
Which technology is right for your organization? The team at SearchStorage.com helps you select the right SAN for your unique requirements.
3

Data systems

-
Server SAN and cloud
In addition to the hyper-converged and software options for server-based storage, server SANs and the cloud are also being used in the data center to pool storage. The cloud is a popular option for shared storage with the ability to scale and keep costs low. A server SAN architecture, consisting of multiple storage devices directly attached to separate servers, has been favored by companies like Facebook and Google. With the links below, see where these server-based data storage options are being used.