Big data tutorial: Everything you need to know
Editor's note
Big data is here to stay. Even technologists who might have previously disparaged it as a buzz word will now acknowledge that the term and its accompanying technologies are evolving into real-world enterprise offerings and data center strategies. This SearchStorage.com big data tutorial is designed to get data storage managers up to speed on the conversations shaping the decisions many IT managers are making about big data technology. An increasing number of data sources -- such as social media -- and a growing number of media-rich data types -- such as X-rays and video -- are fueling the challenges associated with big data at companies that might never have thought of themselves as big data customers. The divide between analytics and storage in the world of big data is narrowing as data storage managers find themselves tasked with designing and managing big data infrastructures. In addition, big data sets that include company-sensitive and personal data have unique security and compliance requirements that managers need to adhere to. View the content in our big data storage tutorial to learn more about these high-transaction environments, new scale-out technologies, rising I/O demands and the latest news on Hadoop.
1

John Webster on big data architecture

John Webster, a senior partner at Evaluator Group based in Boulder, Colo., offers a thorough explanation of how to manage big data storage environments and Apache Hadoop technology, and provides readers with alternatives to DAS in Hadoop storage. This four-part video presentation begins with a high-level discussion of big data architecture and closes with a technical explanation of the Hadoop Distributed File System (HDFS) and NameNode in Hadoop architectures.
2

Big data vendor trends

How do you know what to focus on when it comes to big data? In this section of our big data tutorial, we've selected the most crucial trends coming from the vendor sphere so data storage managers can stay up to date on popular storage options in the industry.

Download this free guide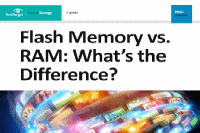 Download Now: Flash Memory vs. RAM: What's the Difference?
In this guide, explore the differences between flash memory and RAM. Plus, discover how quad-level cell (QLC) and triple-level cell (TLC) NAND flash memory are coexisting in the data center.
3

CIOs: Big data challenges

CIOs have their own big data challenges: Many feel they should take the lead in identifying those patterns that might drive better business decisions. To do this, they'll need to add to their company's big data skill set by hiring data scientists, mathematicians and information architects. Evaluating the business value that big data and analytics can provide is difficult, and building architecture with adequate capacity and performance is a touchy task. Furthermore, convincing the business that big data governance is a concern for the executive suite and even the boardroom is an important issue. Find out more about the challenges CIOs face with big data in this special collection of news and analysis from SearchCIO.com.
4

Big data analytics drive business value

Big data analytics can use real-time data to provide insight into business processes and trends, and ultimately can provide a lot of value to enterprises. But performing analytics that produce actionable results requires skilled data analysts and an infrastructure that can handle constant processing. To help you be sure you're extracting the most valuable results from your analytics project, these big data experts explain what to watch out for.
5

Big data security and compliance issues

Information stored in big data environments is often extremely sensitive. An organization might be storing customer data, financial records or information integral to business processes -- all information that could do significant damage to the organization if compromised. Security is sometimes baked into database offerings, but it often isn't as comprehensive in open source big data technologies that are growing in popularity. For that reason, third-party or additional security measures may need to be taken. In addition, many enterprises analyze big data sets that have specific requirements for privacy and governance, so additional steps may be necessary for compliance. The following links present some common big data security and compliance issues and tips for proactively preventing a breach.