Get started
Bring yourself up to speed with our introductory content.
Big data tutorial: Everything you need to know
Learn about big data technologies and architecture, vendor developments in the big data arena and what CIOs say are their biggest challenges when implementing big data in their storage environments.
Introduction
Big data is here to stay. Even technologists who might have previously disparaged it as a buzz word will now acknowledge that the term and its accompanying technologies are evolving into real-world enterprise offerings and data center strategies. This SearchStorage.com big data tutorial is designed to get data storage managers up to speed on the conversations shaping the decisions many IT managers are making about big data technology. An increasing number of data sources -- such as social media -- and a growing number of media-rich data types -- such as X-rays and video -- are fueling the challenges associated with big data at companies that might never have thought of themselves as big data customers. The divide between analytics and storage in the world of big data is narrowing as data storage managers find themselves tasked with designing and managing big data infrastructures. In addition, big data sets that include company-sensitive and personal data have unique security and compliance requirements that managers need to adhere to. View the content in our big data storage tutorial to learn more about these high-transaction environments, new scale-out technologies, rising I/O demands and the latest news on Hadoop.
1

Essential tools

-
Big data technologies
Among the big data technologies you'll need to know are the Apache Software Foundations' Java-based Hadoop programming framework that can run applications on systems with thousands of nodes; and the MapReduce software framework, which consists of a Map function that distributes work to different nodes and a Reduce function that gathers results and resolves them into a single value. Also gaining more attention is the Apache Hive data warehousing component, which offers a query language called HiveQL that translates SQL-like queries into MapReduce jobs automatically. In addition to Hive, more vendors are trying to get in on the Hadoop action with their own SQL Server-Hadoop connector engines. Check out the links below to get more in-depth information about each of these technologies for big data, and how newer technologies are reversing some of the big data challenges enterprises once faced.
2

Expert video

-
John Webster on big data architecture
John Webster, a senior partner at Evaluator Group based in Boulder, Colo., offers a thorough explanation of how to manage big data storage environments and Apache Hadoop technology, and provides readers with alternatives to DAS in Hadoop storage. This four-part video presentation begins with a high-level discussion of big data architecture and closes with a technical explanation of the Hadoop Distributed File System (HDFS) and NameNode in Hadoop architectures.

Download this free guide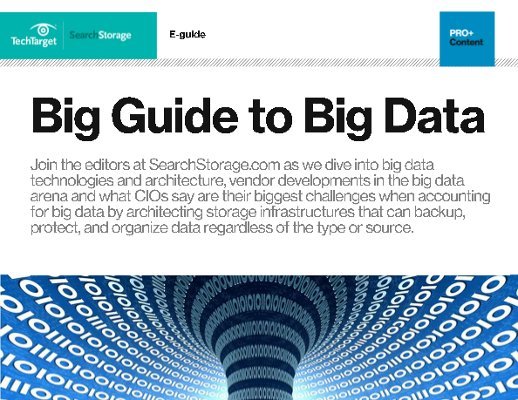 Download the PDF version of "Big data tutorial: Everything you need to know"
Rather than going through each of these 31 articles individually, save yourself the time and effort by downloading our comprehensive PDF version of this essential Big Data guide so that you can access all of this expert content in one, easy-to-read resource.
3

Market updates

-
Big data vendor trends
How do you know what to focus on when it comes to big data? In this section of our big data tutorial, we've selected the most crucial trends coming from the vendor sphere so data storage managers can stay up to date on popular storage options in the industry.
4

CIO commentary

-
CIOs: Big data challenges
CIOs have their own big data challenges: Many feel they should take the lead in identifying those patterns that might drive better business decisions. To do this, they'll need to add to their company's big data skill set by hiring data scientists, mathematicians and information architects. Evaluating the business value that big data and analytics can provide is difficult, and building architecture with adequate capacity and performance is a touchy task. Furthermore, convincing the business that big data governance is a concern for the executive suite and even the boardroom is an important issue. Find out more about the challenges CIOs face with big data in this special collection of news and analysis from SearchCIO.com.
5

Analytics

-
Big data analytics drive business value
Big data analytics can use real-time data to provide insight into business processes and trends, and ultimately can provide a lot of value to enterprises. But performing analytics that produce actionable results requires skilled data analysts and an infrastructure that can handle constant processing. To help you be sure you're extracting the most valuable results from your analytics project, these big data experts explain what to watch out for.
6

Security

-
Big data security and compliance issues
Information stored in big data environments is often extremely sensitive. An organization might be storing customer data, financial records or information integral to business processes -- all information that could do significant damage to the organization if compromised. Security is sometimes baked into database offerings, but it often isn't as comprehensive in open source big data technologies that are growing in popularity. For that reason, third-party or additional security measures may need to be taken. In addition, many enterprises analyze big data sets that have specific requirements for privacy and governance, so additional steps may be necessary for compliance. The following links present some common big data security and compliance issues and tips for proactively preventing a breach.
7

Commentary

-
Big data video
Our big data video section offers a behind-the-scenes glimpse into what users and analysts think of what vendors are doing in the space.
Video
Hear one expert's take on how much of the big data boom is just hype, and whether there are real insights to be gained from big data analytics.
Video
Analysts discuss EMC's strategy to focus on big data at its annual EMC World conference in Las Vegas.
Video
Big data doesn't necessarily require a completely new set of tools in order to perform analytics; your existing technologies could get the job done.
8

Terms to know

-
Big data glossary
With so many technologies and products associated with big data and analytics, there are a lot of terms to know. Use this glossary for a quick take of some of the most common terms you'll likely come across.