News
Stay informed about the latest enterprise technology news and product updates.
2015 Vault Linux Conference coverage
Get the highlights from top sessions at the 2015 Vault Linux Conference in this guide.
Introduction
The inaugural Vault Linux Conference kicked off on March 11 in Boston, with the goal of bringing together the leading developers in file systems and storage in the Linux arena. With sessions aimed at researchers, engineers and C-level executives, speakers included representatives from Alibaba, SanDisk and NetApp.
Below we've gathered highlights from the conference sessions, with insight about open-source innovation and the importance of flash and thinking outside the box for cost saving storage solutions.
1

Cold cloud storage

-
Alibaba cuts costs with Lambert cold storage engine
If you're looking to reduce IT expenses, sometimes you might have to look outside the box. Chinese e-commerce company Alibaba Inc. is one business doing just that. Coly Li, head of storage engineering for Alibaba Infrastructure Service, shared the company's story of how their cold storage engine works in a public cloud, and why it works so well for them.
News
E-commerce company Alibaba detailed their plans for the Lambert open source engine with Aliyun public cloud storage. Continue Reading
2

Looking to the future

-
Open source technology as a method of data preservation
At the Vault Linux Conference, using open source technology to future proof data was a dominant theme. See what other approaches were recommended and what major challenges storage professionals continue to face.
News
In the closing keynote of the Vault Linux Conference, NetApp Senior Vice President Brian Pawlowski urged users to look into open source technology. Continue Reading

Download this free guide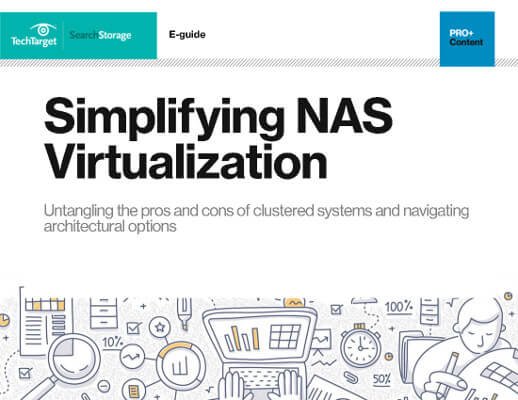 PDF: Simplifying NAS Virtualization
This complete guide untangles the pros and cons of clustered NAS systems, simplifying NAS virtualization, and confronting the dangers of NAS sprawl.
3

A need for flash

-
Open source community behind in utilizing flash
According to one Vault speaker, the open source community is lagging when it comes to taking full advantage of flash performance. In his session, SanDisk Chief Software Architect Allen Samuels pointed out that until open source works on creating products well-adapted for flash, they will face inefficiencies in the data center.
News
Allen Samuels explained the value of using flash with traditional hard disk drives at the Linux Vault Conference. Continue Reading