Definition
virtual storage area network (VSAN)
A virtual storage area network (VSAN) is a logical partition in a physical storage area network (SAN). VSANs allow traffic to be isolated within specific portions of a storage area network so that if a problem occurs in one logical partition, it can be handled with a minimum of disruption to the rest of the network. The use of multiple, isolated VSANs can also make a storage system easier to configure and scale out. Subscribers can be added or relocated without the need for changing the physical layout.
Content Continues Below

Download this free guide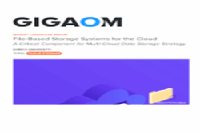 Considerations for Using Cloud File Storage
The cloud-based file storage landscape is constantly changing, making it important to keep up with the crucial offerings from different vendors. Unlock this white paper to learn which vendors to watch and learn 3 crucial observations to enhance your multi-cloud data storage strategy.
A virtual SAN appliance allows unused storage capacity on virtual servers to be pooled and accessed by virtual servers as needed. A virtual SAN appliance is most often downloaded as a software program that runs on a virtual machine (VM), but some storage hardware vendors are beginning to incorporate virtual SAN appliances into their firmware. Depending on the vendor, a virtual SAN appliance might also be called a software-defined storage (SDN) appliance or simply a virtual storage appliance.
The acronym for virtual SAN is spelled differently by different vendors. When spelled with all capital letters, the acronym is usually associated with Cisco Systems and is talked about in conjunction with zoning, which splits a physical SAN into multiple, isolated subnetworks. When spelled with a lower-case v, the acronym is usually associated with VMware and Hyper-V features that allow available hard disk drive storage to be pooled from across clustered hosts.
This was last updated in
May 2011
Continue Reading About virtual storage area network (VSAN)