Definition
tunnel injection
Tunnel injection, also called Fowler-Nordheim tunnel injection, is the process by which data is written to NAND flash memory.
Fowler-Nordheim tunneling involves electrons passing through a barrier in the presence of a high electric field. During write operation on NAND flash media, the electrons tunnel through a thin dielectric material to change the electronic charge of a floating gate associated with a memory cell. A memory cell's bit state depends upon whether or not the floating gate is charged or uncharged. When electrons are present on the floating gate, the bit state is 0. When electrons are removed from the floating gate, the bit state is 1.

Download this free guide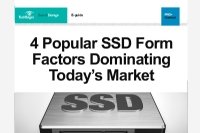 New: 4 Popular SSD Form Factors Dominating Today's Market
Form factors will continue to evolve, as will the interface connectors and bus protocols that support them. Explore these 4 common SSD form factors and where they work best: Peripheral Component Interconnect Express (PCIe), 2.5-inch SATA, mSATA, and M.2. Plus, discover key steps to take to destroy an SSD and protect your data.
The process by which data is erased from NAND flash memory is called Fowler-Nordheim tunnel releasing.
Continue Reading About tunnel injection
Dig Deeper on Solid-state storage