Definition
network-attached storage (NAS)
Network-attached storage (NAS) is a type of dedicated file storage device that provides local-area network local area network (LAN) nodes with file-based shared storage through a standard Ethernet connection.

Download this free guide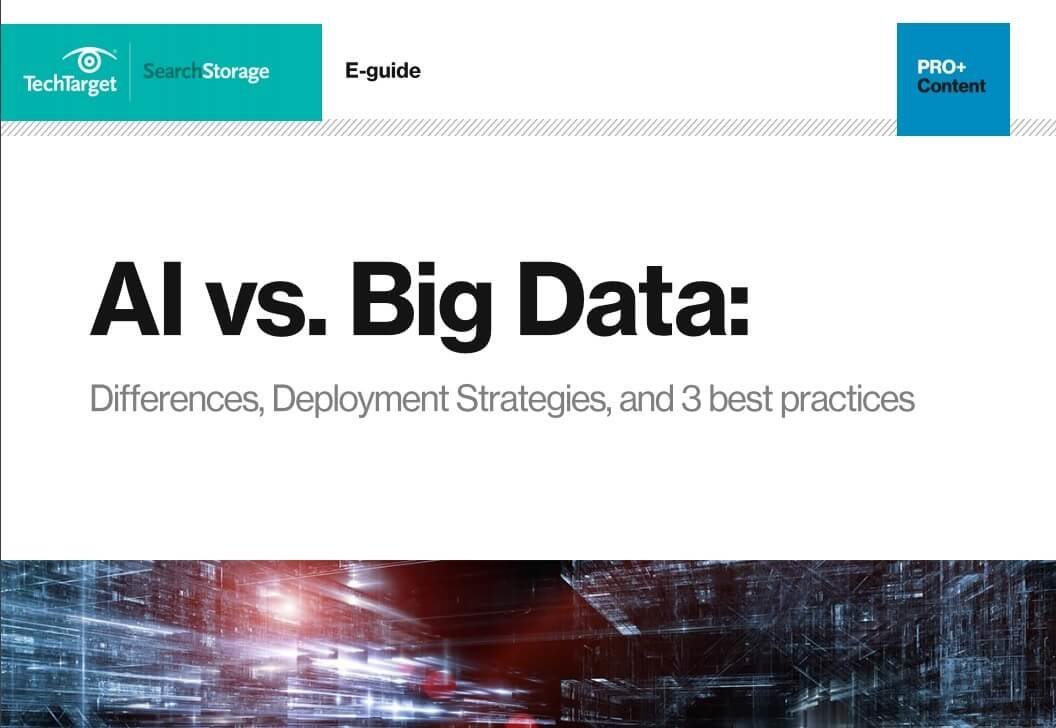 AI or Big Data, What's the Better Fit for Your Business?
Though similar in some ways, the two play vastly different roles in your storage system. Do you know what's the best option for your business, or how you can put it into practice? Read this guide to find these answers, as well as a framework for finding success with AI in your storage architecture.
NAS devices, which typically do not have a keyboard or display, are configured and managed with a browser-based utility program. Each NAS resides on the LAN as an independent network node and has its own IP address.

Netgear is just one of several popular NAS vendors.
An important benefit of NAS is its ability to provide multiple clients on the network with access to the same files. Prior to NAS, enterprises typically had hundreds or even thousands of discrete file servers that had to be separately configured and maintained. Today, when more storage capacity is required, NAS appliances can simply be outfitted with larger disks or clustered together to provide both vertical scalability and horizontal scalability. Many NAS vendors partner with cloud storage providers to provide customers with an extra layer of redundancy for backing up files.
NAS use cases
In the home, NASes are often used for storing and serving multimedia files and for automated backups. Many smart homes rely on NAS to provide centralized storage for smart TVs, security systems and other Internet of Things (IoT) components in the home.
In the enterprise, a NAS array can be used as a backup target for archiving and disaster recovery. If a NAS device has a server mode, it can also function as an email, multimedia, database or print server for a small business. Some higher-end NAS products can hold enough disks to support RAID, a storage technology that turns multiple hard disks into one logical unit in order to provide better performance times, high availability and redundancy.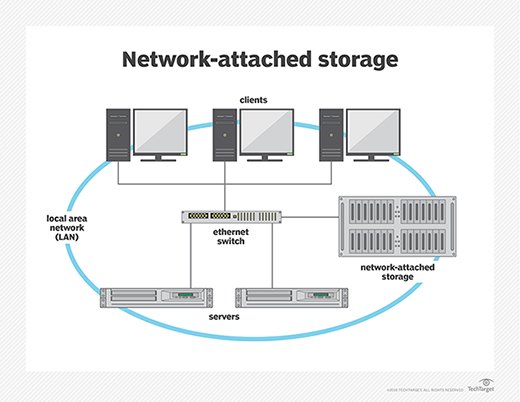 NAS product categories
NAS devices are grouped in three broad categories based on the number of drives, drive support, drive capacity and scalability.
High-end or enterprise NAS: The high end of the market is driven by businesses that need to store huge amounts of files, including virtual machine (VM) images. High-end NAS provides rapid access and NAS clustering capabilities.
Midmarket NAS: This end of the market can accomodate businesses that require several hundred terabytes of data. Midmarket NAS devices cannot be clustered, however, which can create file-system siloes when multiple NAS devices are required.
Low-end or desktop NAS: The low end of the market is aimed at small businesses and home users who require local shared storage. Increasingly, this market is shifting toward a cloud NAS model.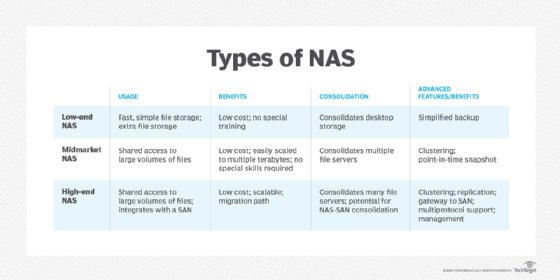 NAS deployments for business
The chart below describes five different ways network-attached storage can be deployed and lists the pros and cons for each approach. Each deployment can easily be managed by a single network manager.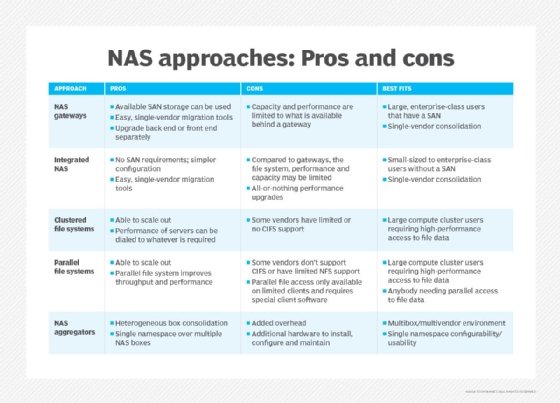 Evolution of NAS
Over time, the baseline functionality of NAS devices has broadened to support virtualization. High-end NAS products may also support data deduplication, flash storage, multiprotocol access and replication.
To combat NAS sprawl, vendors are offering clustered NAS systems. A clustered NAS system is a distributed file system that runs concurrently on multiple NAS nodes. Clustering provides access to all files from any of the clustered nodes regardless of the physical location of the file.
Some NAS devices run a standard operating system (OS) such as Microsoft Windows, while others may run the vendor's proprietary operating system. Although the Internet Protocol (IP) is the most common data transport protocol, some mid-market NAS products may support the Network File System (NFS), Internetwork Packet Exchange (IPX), NetBIOS Extended User Interface (NetBEUI) or Common Internet File System (CIFS) protocols. High-end NAS products may support Gigabit Ethernet (GigE) for even faster data transfer across the network.
Traditional NAS vs. scale-out NAS
In a traditional network-attached storage deployment, the NAS head -- which is the hardware that performs the NAS control functions -- provides access to back-end storage through an Internet connection. Scale-out NAS simply means that the storage administrator has installed larger heads and additional hard disks to boost storage capacity.
NAS vs. DAS
Direct-attached storage (DAS) is storage on a dedicated server or storage device that is not networked. In order to access files stored on direct-attached storage, the end user must have physical access to the device where the files are stored. The advantage of DAS is that it can provide end users with better performance than NAS, which is important for compute-intensive software programs. The disadvantage of DAS is that it requires the storage on each device to be managed separately, which can complicate the way files are managed and shared.
NAS vs. SAN
A storage-area network (SAN) organizes storage resouces on an independent, high-performance network. The key distinction between NAS and SANs is that network-attached storage handles input/output (I/O) requests for individual files, whereas a storage-area network manages I/O requests for contiguous blocks of data. Today, some SANs can transport data over a standard Ethernet connection, but most often storage area networks use the Fibre Channel protocol, which was developed specifically for high-speed data transport on storage-area networks.
SAN/NAS convergence
Until recently, technological barriers have kept the file and block storage worlds separate, each in its own management domain and each with its own strengths and weaknesses. Many storage managers view block storage as first class and file storage as economy class. Given the prevalence of business-critical databases housed on storage area networks (SANs), that's understandable.
Today, vendors are seeking to improve large-scale file storage by drawing these two worlds together with a hybrid SAN/NAS solution that allows companies to consolidate block- and file-based data on the same storage arrays. Companies that are looking to combine SAN and NAS operations have a sometimes bewildering number of choices, including standalone NAS gateways, SAN solutions with integrated NAS functionality and NAS devices that allow block I/O and filer I/O to run within the same set of switches.
Continue Reading About network-attached storage (NAS)
Dig Deeper on NAS devices
PRO+
Content
Find more PRO+ content and other member only offers, here.