 BACKGROUND IMAGE: iSTOCK/GETTY IMAGES
Flash storage is any type of drive, repository or system that uses flash memory to keep data for an extended period of time. Flash memory is common today in small computing devices and large business storage systems. The size and complexity of flash-based storage varies in devices ranging from portable USB drives, smartphones, cameras and embedded systems to enterprise-class all-flash arrays (AFAs). Flash is packaged in a variety of formats for different storage purposes and is often referred to as solid state storage because it has no moving parts.
Flash stores data using a charge on a capacitor to represent a binary digit (bit). It is most often packaged in surface-mounted chips attached to a printed circuit board. Because there are no moving mechanical parts involved, power consumption is lower. A typical serial Advanced Technology Attachment (SATA) flash drive consumes 50% or less of the power required by mechanical SATA hard disk drives (HDDs) and may be capable of sequential read speeds of more than 500 MB per second in consumer drives -- faster than even the fastest enterprise-class mechanical HDDs. Flash drives have no mechanical limitation for file access, which enables access times in microseconds, rather than the millisecond seek times required by mechanical HDDs. The result is several orders of magnitude less in latency.
Most flash storage systems are composed of memory chips and a flash controller. The memory chips store data, while the controller manages access to the storage space on the memory unit. The flash controller is often multichannel, working with a random access memory (RAM) cache. The cache buffers the data going to and from a number of chips, which enhances speed.
Flash memory is in wide use in consumer devices. Smartphones and MP3 players have abandoned the mechanical HDD; flash provides advantages in compactness and power consumption. In notebook computers, flash storage offers the additional boon of being more resistant to the high gravitational acceleration bumps and drops these devices often receive in their mobile lives. This rugged nature enables the drives to maintain function through these events, which protects data. Flash is more prevalent in notebooks than desktop computers.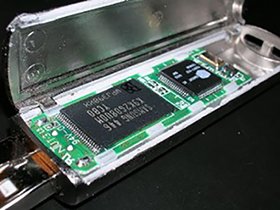 Flash is also the standard form of storage in digital cameras, tablets and digital camcorders. Photolithographic shrinks and the development of denser types of flash have enabled an increase in capacity, making flash suitable for miniaturized applications.
Flash storage adoption continues to grow in enterprise storage systems. Initial deployments focused on the acceleration of input/output (I/O)-intensive applications, such as databases and virtual desktop infrastructures (VDIs). Use cases have since expanded to general enterprise workloads and mission-critical applications as the cost of flash has dropped and businesses have attempted to take advantage of its performance and low-latency benefits.
Continue Reading About flash storage
Dig Deeper on Solid-state storage