An exabyte (EB) is a large unit of computer data storage, two to the sixtieth power bytes. The prefix exa means one billion billion, or one quintillion, which is a decimal term. Two to the sixtieth power is actually 1,152,921,504,606,846,976 bytes in decimal, or somewhat over a quintillion (or ten to the eighteenth power) bytes. It is common to say that an exabyte is approximately one quintillion bytes. In decimal terms, an exabyte is a billion gigabytes.
Content Continues Below

Download this free guide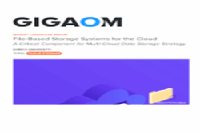 Considerations for Using Cloud File Storage
The cloud-based file storage landscape is constantly changing, making it important to keep up with the crucial offerings from different vendors. Unlock this white paper to learn which vendors to watch and learn 3 crucial observations to enhance your multi-cloud data storage strategy.
An exabyte of storage could contain 50,000 years' worth of DVD-quality video.
This was last updated in
April 2005
Continue Reading About exabyte (EB)
Dig Deeper on Data storage management