A disk cache is a mechanism for improving the time it takes to read from or write to a hard disk. Today, the disk cache is usually included as part of the hard disk. A disk cache can also be a specified portion of random access memory (RAM). The disk cache holds data that has recently been read and, in some cases, adjacent data areas that are likely to be accessed next. Write caching is also provided with some disk caches.

Download this free guide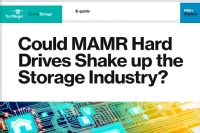 What's on The HDD Horizon?
Perpendicular magnetic recording (PMR) helped extend the capacity of HDD storage over the last 10 years but they're quickly hitting their limit. So what's next? Are is hard disk on its way out the door? Download now to read about a new technology; microwave assisted magnetic recording – or MAMR - that is poised to breathe new life into HDDs.
The other type of hardware cache inside your computer is cache memory. Also see cache.
Dig Deeper on SAN technology and arrays