Definition
direct-attached storage (DAS)
Direct-attached storage (DAS) is computer storage that is connected to one computer and not accessible to other computers. For an individual computer user, a hard drive or solid-state drive (SSD) is the usual form of direct-attached storage. In the enterprise, individual disk drives in a server are called direct-attached storage, as are groups of drives that are external to the server but are directly attached through Small Computer System Interface (SCSI), Serial Advanced Technology Attachment (SATA), Serial-Attached SCSI (SAS), Fibre Channel (FC) or iSCSI.
DAS can be deployed as disks -- hard disk drives (HDDs) or SSDs -- inside a server chassis, for example, or as an external storage enclosure or enclosures directly connected to a card plugged into the internal bus of a server. It can also be an individual drive in a desktop or laptop computer.
A direct-attached storage device is not networked. There is no connection through Ethernet or FC switches that connect network-attached storage (NAS) devices and storage area networks (SANs).
Other types of storage, such as optical devices and tape, are technically DAS as they are directly attached to a system. However, when one refers to DAS, it is usually in regard to internal or external primary or secondary storage in the form of HDDs and SSDs.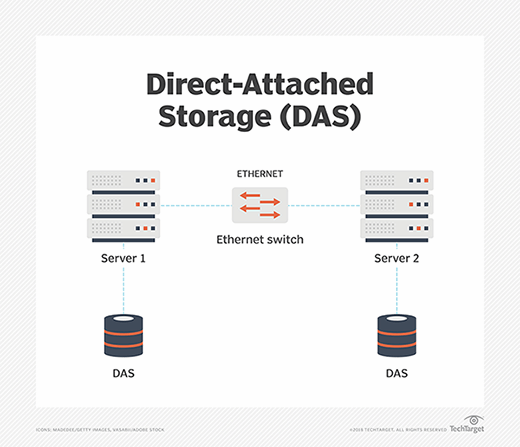 Direct-attached storage pros and cons
DAS can provide users with better performance than networked storage because the server does not have to traverse a network to read and write data. That is why enterprise organizations often turn to DAS for certain types of applications that require high performance. Microsoft, for example, recommends that Exchange installations use DAS.
In the past, direct-attached storage was often criticized as an inefficient way to manage enterprise storage because it can't be easily shared and it does not facilitate failover should the server crash. As virtualization has become more mainstream, the advantages that DAS offers have once again gained in popularity.

Unlike centralized and networked shared storage, such as NAS or SAN -- where capacity is pooled and shared among servers over a speedy network connection -- direct-attached storage is dedicated to a single server. This means connectivity and expandability are both constrained by the number of expansion slots in the server. The size of the DAS enclosure also restricts storage capacity. These drawbacks continue to limit this type of storage's appeal. Sharing with DAS, for example, is typically limited to a small number of ports or host connections.
DAS is less expensive than SAN or NAS, however, and easier to deploy when directly plugged into a server. Simply purchase new drives, plug them into a server and you've potentially increased storage capacity by as much as several terabytes. This has made DAS a practical storage choice for many small and medium-sized businesses (SMBs), where storage costs are a major factor.
Most physical servers continue to boot from DAS storage. The speed of SSDs, in particular, makes booting locally through direct-attached storage more advantageous than a SAN, for example. Thanks to local SSDs, it may take only a few seconds for a physical server to boot or reboot. This is a useful feature when a physical server is host to virtual machines (VMs) that need to be fired up quickly in the event of a crash or after scheduled downtime for service or maintenance.
Furthermore, direct-attached storage often lacks many of the more advanced storage management features common to NAS devices and SANs, such as remote replication and snapshots.
Security issues
As with all storage systems that host an organization's critical applications and data, security is a prime concern. To protect data housed on direct-attached storage, you should:
Perform a security assessment to discover weaknesses. If you don't find any, look harder. You may find your DAS environment has security vulnerabilities, such as lax user permissions, missing patches or misconfigured systems.
Run an audit of user permissions, and scan the DAS for unstructured information accessible to every person on the network. Once that's done, lock down permissions, and think about segmenting your network to better protect critical DAS systems.
Make patching a priority. Not keeping up with operating system and application software patches can leave your DAS vulnerable to malfeasance. An intruder that gains unwanted access to the server connected to the DAS can access all the data on the system, and you may not even know the system has been breached.
Conduct business continuity and fault tolerance testing by checking the resiliency of the DAS system. Focus on realistic system failure scenarios, such as the storage hardware dying or the data center being damaged or completely destroyed.
Future outlook and trends
The SATA Express (SATAe) interface is relatively new, having arrived in chipsets in 2014, and is available for DAS. What's most important with SATAe is how it enables direct-attached storage to benefit from the reduced latency overhead -- of more than 50% -- of the nonvolatile memory express (NVMe) specification.
NVMe, which can serve as the logical device interface for direct-attached Peripheral Component Interconnect Express (PCIe) storage devices, is architected for higher-performance SSDs. It accelerates performances by exploiting the parallelism of PCIe 3.0, the latest version of the standard, through an optimized command set.
This was last updated in
April 2018
Continue Reading About direct-attached storage (DAS)