Definition
SAN switch (storage area network switch)
A storage area network (SAN) switch is a device that connects servers and shared pools of storage devices and is dedicated to moving storage traffic.

Download this free guide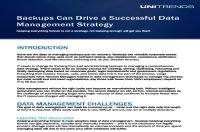 The Importance of Smarter Data Backup
Learn how to drive a successful data management strategy and ensure business-critical data is preserved and recoverable when needed, using the native capabilities of backups.
A SAN switch is often a Fibre Channel (FC) switch, which is compatible with the Fibre Channel protocol. The FC switch checks the data packet header, determines the computing devices of origin and destination, and sends the packet to the intended storage system. An FC switch is designed for use in a high-performance network with low latency and lossless data transmission.
A SAN switch can also be an Ethernet switch. The Ethernet-based SAN switch would ideally be devoted to storage traffic in an Internet Protocol (IP) SAN to try to maintain performance predictability. The Ethernet switch would view the iSCSI storage target as an IP address and forward the storage traffic to the IP address.
SAN switches can be combined to construct large SAN fabrics that interconnect thousands of servers and storage ports.
Continue Reading About SAN switch (storage area network switch)