Definition
RAID 50 (RAID 5+0)
RAID 50, also known as RAID 5+0, combines distributed parity (RAID 5) with striping (RAID 0). It requires a minimum of six drives.
This RAID level offers better write performance, increased data protection and faster rebuilds than RAID 5. Performance does not degrade as much as in a RAID 5 array because a single failure only affects one array. Up to four drive failures can be overcome as long as each failed drive occurs in a different RAID 5 array.

Download this free guide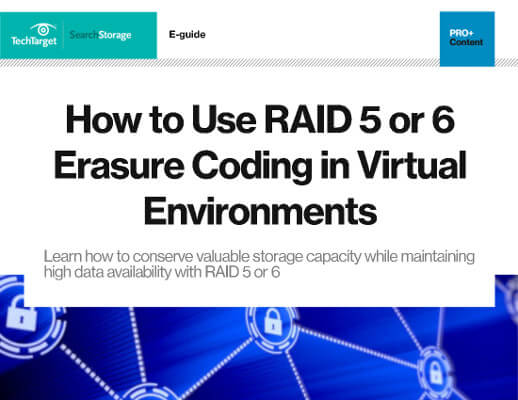 Download: RAID 5 and RAID 6 achieve more efficient erasure coding
This guide will instruct you on how to implement RAID 5 or RAID 6 erasure coding in virtual environments like vSAN 6.2. Included is an explanation of how these higher levels conserve capacity while maintaining data availability.
One disadvantage to RAID 50 is that it needs a sophisticated controller.
The best use case for RAID 50 is for applications that require high reliability.
Continue Reading About RAID 50 (RAID 5+0)