Definition
FCoE (Fibre Channel over Ethernet)
FCoE (Fibre Channel over Ethernet) is a storage protocol that enable Fibre Channel communications to run directly over Ethernet. FCoE makes it possible to move Fibre Channel traffic across existing high-speed Ethernet infrastructure and converges storage and IP protocols onto a single cable transport and interface.
Content Continues Below

Download this free guide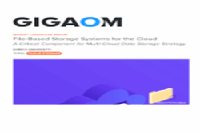 Considerations for Using Cloud File Storage
The cloud-based file storage landscape is constantly changing, making it important to keep up with the crucial offerings from different vendors. Unlock this white paper to learn which vendors to watch and learn 3 crucial observations to enhance your multi-cloud data storage strategy.
The goal of FCoE is to consolidate input/output (I/O) and reduce switch complexity as well as to cut back on cable and interface card counts. Adoption of FCoE been slow, however, due to a scarcity of end-to-end FCoE devices and a reluctance on the part of many organizations to change the way they implement and manage their networks.
Traditionally, organizations have used Ethernet for TCP/IP networks and Fibre Channel for storage networks. Fibre Channel supports high-speed data connections between computing devices that interconnect servers with shared storage devices and between storage controllers and drives. FCoE shares Fibre Channel and Ethernet traffic on the same physical cable or lets organizations separate Fibre Channel and Ethernet traffic on the same hardware.
FCoE uses a lossless Ethernet fabric and its own frame format. It retains Fibre Channel's device communications but substitutes high-speed Ethernet links for Fibre Channel links between devices.
FCoE works with standard Ethernet cards, cables and switches to handle Fibre Channel traffic at the data link layer, using Ethernet frames to encapsulate, route, and transport FC frames across an Ethernet network from one switch with Fibre Channel ports and attached devices to another, similarly equipped switch.
FCoE is often compared to iSCSI, an Internet Protocol(IP)-based storage networking standard.
This was last updated in
December 2012
Continue Reading About FCoE (Fibre Channel over Ethernet)