Evaluate
Weigh the pros and cons of technologies, products and projects you are considering.
Navigating the all-flash array storage buying process
There are many considerations when determining which all-flash array storage product best fits into your organization's plans. This buyer's guide will help guide you through the evaluation and purchasing process.
Introduction
All-flash storage is taking over as the first choice to store mission-critical workloads. Solid-state drives offer distinct advantages over mechanical hard disk drives, such as reduced power consumption and increased performance.
All-flash array storage can be beneficial for numerous applications, including video streaming apps, virtual desktop infrastructures, database applications, big data and search engines, such as Google. The high-speed, low-latency, high-IOPS capabilities of all-flash storage arrays make them an appealing alternative to HDDs.
But all-flash array (AFA) storage products are not all the same, as they vary by capacity, performance, reliability and price. And, to add to the complexity, many vendors offer multiple product lines, each with several models. They are also priced at a premium compared to all-disk and hybrid arrays that mix SSDs and HDDs, adding to the importance of making the right buying decision.
Before investing in AFA storage, you need to determine what features and options the various systems offer and assess how they match your organization's needs. For example, what kind of workloads do you need to store? Are your applications read-intensive or write-intensive? How many require low latency or can tolerate high latency?
This guide can help you answer these questions and simplify the AFA storage selection process by providing a comparison of products from the leading all-flash array vendors. These products are broken down into three categories -- high-end enterprise arrays, midrange systems and NAS appliances.
Using extensive research into the all-flash array storage market, TechTarget editors focused on vendors that offered distinct AFA storage platforms, as well as several specialist vendors that developed their products from the ground up. Our research included data from TechTarget surveys, as well as reports from other respected research firms, including Gartner.
A roundup of these all-flash storage arrays provides an in-depth look at the features and functionality offered by the leading AFA products. Using this information and the accompanying product comparison chart, you can compare the specific products to find the all-flash array that will best meet your organization's needs.
1

What is?

-
The benefits of all-flash array storage
All-flash arrays offer numerous advantages over HDDs. Learn the pros and cons of AFA storage, as well as who the market leaders are and how they got into the all-flash storage market.
Feature
Learn why more and more companies are moving their active workloads to all-flash storage. Continue Reading
Feature
Storage infrastructure is evolving faster than ever, partially because of the role played by predictive analytics. Continue Reading
News
Flash performance provides the speed that enables predictive analytics software to perform complex analyses in a timely way. Continue Reading
2

Do I need?

-
Making the case for implementing all-flash array storage
Justifying an upgrade to all-flash array storage begins by gathering information about your workloads and application requirements.
Feature
Before you can evaluate the various all-flash storage systems, you must first determine which apps need the speed and powerful features of all-flash. Continue Reading

Download this free guide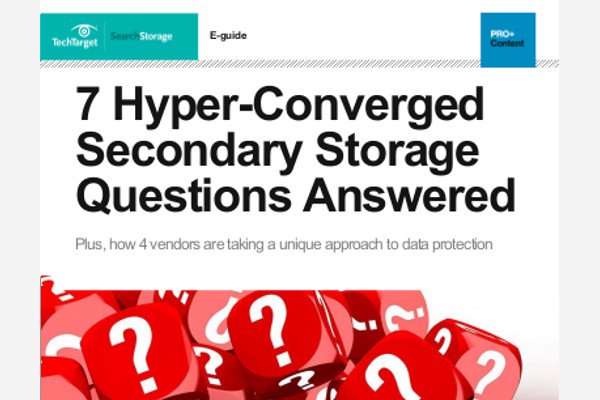 7 Hyper-Converged Secondary Storage Questions Answered
In this expert guide, receive answers to 7 fundamental questions, an analysis of Asigra, Cohesity, HPE and Rubrik hyper-converged secondary storage products, key benefits of converged secondary storage and cautions and much more.
3

How to buy

-
What to look for when buying all-flash array storage
Most all-flash arrays provide deduplication and compression, but some products also offer enhanced features, such as built-in automated tiering and replication. Learn what features and functionality you should look for in an AFA.
Feature
All-flash storage arrays are not all alike. Knowing which features and capabilities you should consider can help simplify the evaluation process. Continue Reading
4

Which should I buy?

-
Assessing which all-flash array storage product best fits your needs
The leading all-flash array vendors, including Dell EMC, NetApp, Pure Storage, IBM and Hewlett Packard Enterprise, provide organizations with multiple buying options.
Feature
The leading all-flash arrays can be categorized into three groups -- high-end enterprise arrays, midrange systems and NAS appliances. Learn which products fall into each category, as well as how the products compare. Continue Reading
5

Product roundup

-
How products from the leading all-flash array vendors differ
The leading all-flash storage vendors offer a wide variety of products that provide different capacities and physical characteristics.
Feature
Competing all-flash arrays have vastly different features and functionality. This in-depth look at each of the leading products shows what makes some all-flash storage arrays more suitable than others for particular applications and workloads. Continue Reading