News
Stay informed about the latest enterprise technology news and product updates.
ZeroStack gives Intelligent Cloud Platform Nimble back-end
ZeroStack's "private cloud in a box" software is now available on Nimble Storage boxes. The vendors this week launched a joint partnership to sell ZeroStack Intelligent Cloud Platform software on Nimble Storage arrays. The goal is to provide a pre-tested, automated private cloud system with the ability to connect to the Amazon Web Services (AWS) public cloud in a hybrid setup.

Download this free guide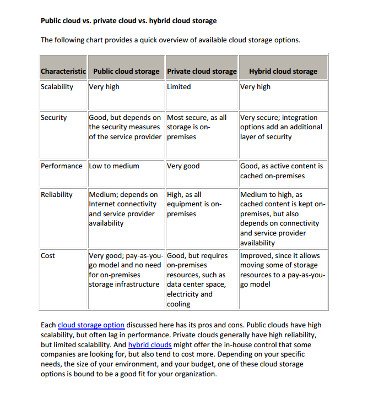 Cloud storage face-off: Public cloud vs. private cloud vs. hybrid cloud storage
Every cloud storage option has its pros and cons. Depending on your specific needs, the size of your environment, and your budget, it's essential to weigh all cloud and on-prem options. Download this comprehensive guide in which experts analyze and evaluate each cloud storage option available today so you can decide which cloud model – public, private, or hybrid – is right for you.
The partnership comes in Nimble's final days as an independent company, pending Hewlett Packard Enterprise (HPE) closing on its $1.2 billion Nimble acquisition.
Kamesh Pemmaraju, ZeroStack's vice president of product management, describes the Intelligent Cloud Platform as "a self-driving private cloud." ZeroStack manages and supports the platform, either on appliances it sells or on partner hardware. ZeroStack software can move workloads back and forth from AWS to VMware-centric on-premises workloads for a hybrid cloud setup.
Customers running Intelligent Cloud Platform on other hardware can use Nimble as back-end storage. Intelligent Cloud Platform will enable customers to manage Nimble Storage volumes through the ZeroStack interfaces, supporting Nimble features such as quality of service, deduplication and encryption.
With a KVM-based hypervisor built in, Intelligent Cloud Platform can bring hyper-converged-type cloud capabilities to a Nimble array.
"This is a Nutanix killer," Pemmaraju said, referring to the hyper-converged leader that is expanding into private cloud-building.
Of course, the partnership could mean zero if HPE decides to discontinue it. But ZeroStack's Pemmaraju said his company already partners with HPE to sell its software on HPE servers, 3PAR StoreServ storage arrays and SimpliVity hyper-converged systems.
"We already work closely with HPE on a number of fronts," he said. "That relationship is strong and we're happy about this [Nimble] acquisition."
ZeroStack software is also available on Dell EMC, Cisco, Lenovo and Supermicro servers. Appliances sold by ZeroStack use Supermicro servers underneath.