News
Stay informed about the latest enterprise technology news and product updates.
X-IO adds all-flash Iglu Blaze arrays
X-IO Technologies today expanded its iglu blaze fx enterprise platform with an all-flash version that scales from 4.3 TB to 466 TB in an array.
X-IO launched the iglu platform in July 2015, building on its direct-attached ISE technology. The original blaze products were hybrid arrays.
The iglu 800 series uses all Toshiba enterprise MLC solid-state drives (SSDs) and includes X-IO software features such as a new stretched cluster technology with synchronous mirroring, snapshots, replication, and data-at-rest encryption.

Download this free guide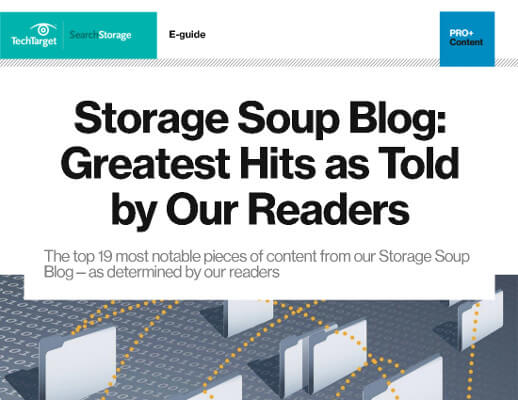 Can't get enough Storage Soup?
We understand! That's why we've compiled the most viewed blogs from 2018 for you in this easily downloadable PDF. From technologies like hyper-converged clouds and TLC 3D NAND to new launches from HPE and NetApp's cloud-flash pivot, our editors have you covered.
The vendor claims the 800 can deliver 600,000 IOPS with 366 TB of flash capacity. The stretch clustering provides disaster recovery for data centers up to 100 kilometers (6.2 miles) apart. Stretch clustering can be used with any iglu storage system.
Customers can federate 32 pairs of iglu controllers.
For the all-flash version, X-IO upgraded iglu controllers with double the number of CPUs and cores and up to three times as much memory of its hybrid arrays. The 800 series includes Intel Xeon E5-2680 v3, 12 cores, and 64GB of memory.
The iglu 800 all-flash arrays start at around $120,000 for 28 TB of capacity.
One feature missing is data deduplication, which has become popular in all-flash arrays because it expands the amount of effective data that can be stored on a system and reduces price per GB. Ellen Rome, X-IO's vice president of marketing, said the vendor is concentrating on performance and dedupe can slow it down.
"We're positioning this for really high performance environments where they might not benefit from dedupe," Rome said. "We're running high performance databases, small block loads, things like that."