News
Stay informed about the latest enterprise technology news and product updates.
Worldwide storage revenue down in Q4, barely up for 2015
Despite slipping in the fourth quarter, overall worldwide storage revenue increased 2.2% in 2015.
External (networked) storage declined 2.3% for the year, according to International Data Corporation's worldwide quarterly enterprise storage systems tracker. Hewlett Packard Enterprise (HPE) was the only major vendor with increases in the fourth quarter and 2015 overall. HPE finished the year second behind EMC in overall storage systems revenue and third behind EMC and NetApp in external storage.

Download this free guide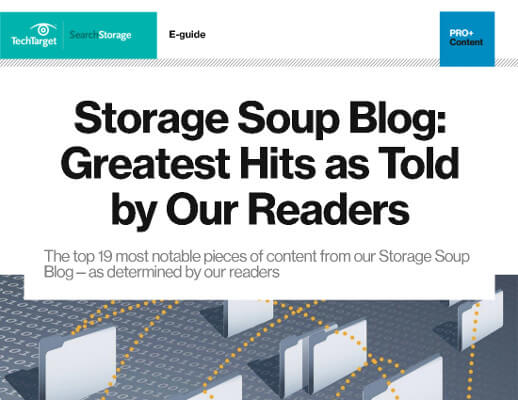 Can't get enough Storage Soup?
We understand! That's why we've compiled the most viewed blogs from 2018 for you in this easily downloadable PDF. From technologies like hyper-converged clouds and TLC 3D NAND to new launches from HPE and NetApp's cloud-flash pivot, our editors have you covered.
Total 2015 revenue of $37.16 billion was up from $36.36 billion in 2014. EMC led the way with $7.13 billion for 19.2% market share, but EMC's revenue fell 5.9% from 2014 and its market share slipped from 20.8%. HPE's revenue of $5.77 billion increased 12.6% from 2014 and its share rose from 14.1% to 15.5%. Dell, IBM and NetApp completed the top five. IBM took the biggest hit with a 23.2% decline, partially because of the sale of its x86 server business to Lenovo.
Revenue from external storage – SAN and NAS — dropped 2.4% for the year to $24.08 billion in 2015. All of EMC's systems revenue comes from external storage, and it had 29.6% market share – down from 30.7% in 2014. NetApp is also external storage-only, and its market share slipped from 12.7% to 11.1% after a revenue drop from $3.13 billion to $2.68 billion.
NetApp's 14.3% decline was the biggest fall of all vendors for external storage. HPE improved 2.7% to $2.41 billion in external storage revenue, and its market share improved from 9.5% to 10%. IBM and Hitachi Data Systems completed the top five. External storage revenue from all other vendors rose eight percent and made up 31.5% of the market.
In the fourth quarter, total enterprise storage systems garnered $10.38 billion in revenues compared to the $10.62 billion in the same quarter of 2014, a 2.2% percent decline. The total worldwide external enterprise storage systems market generated $7 billion compared to $7.12 billion the previous year.
Revenue from flash inside storage arrays grew, however. The all-flash array market generated $955.4 million, a 71.9% increase from the previous year. Hybrid flash array revenue came to $2.9 billion, which is 28% of the overall market.
EMC had $2.23 billion revenue in the fourth quarter, giving it 21.5% share of the overall market and 31.7% of the external market. EMC's revenue fell 5.2% from the previous year.
HPE, Dell, IBM and NetApp followed in overall storage. In external storage, IBM, HPE, NetApp and HDS rounded out the top five behind EMC in external storage. HPE revenue grew 7.9% overall and 2.6% in external storage in the fourth quarter.
NetApp took the biggest hit. Its revenue dropped 14.8% in the quarter and its external storage market share fell from 10.6% to 9.3%. External storage revenue from all other vendors grew 6.5% and their combined 30.1% share would rank second behind EMC.