News
Stay informed about the latest enterprise technology news and product updates.
Western Digital to buy Hitachi GST for $4.3 billion
Western Digital today said it intends to buy Hitachi Global Storage Technologies (HGST) for $4.3 billion, reducing the number of drive vendors to four and making Western Digital a larger force in the enterprise hard drive and solid state drive (SSD) worlds.

Download this free guide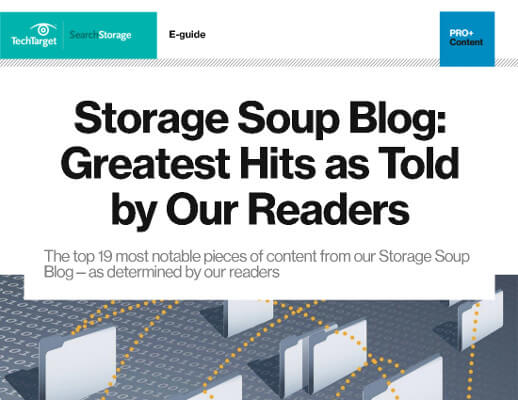 Can't get enough Storage Soup?
We understand! That's why we've compiled the most viewed blogs from 2018 for you in this easily downloadable PDF. From technologies like hyper-converged clouds and TLC 3D NAND to new launches from HPE and NetApp's cloud-flash pivot, our editors have you covered.
Western Digital executives said they expect the deal to close in September. It will leave Western Digital, Seagate, Samsung and Toshiba as the surviving hard drive vendors at a time when digital data keeps growing at record rates and the way people store that data is evolving.
"There's an unprecedented demand for digital storage, both locally and in the cloud," Western Digital CEO John Coyne said during a conference call today to discuss the deal. "And there's increasing diversity of storage devices, connected to PCs, edge devices and the cloud."
The deal makes Western Digital's portfolio more diverse by giving it an enterprise presence. HGST and Seagate recently brought out 3 TB SATA drives, increasing the largest capacity drives by a third. And enterprise SSDs jointly developed by HGST and Intel are now sampling with OEM customers.
HGST CEO Steve Milligan, who will join Western Digital as president, said the Intel relationship will continue under the Western Digital banner.
"It's a key part of HGST's strategy, and will be a key part of the combined company," he said.
Western Digital and HGST had a combined 49% market share of hard drives in 2010, according to a research note issued today by Stifel Nicolaus analyst Aaron Rakers. Rakers wrote that Western Digital had a 31.3% share, with Seagate next at 30%.
Seagate was the enterprise (Fibre Channel and SAS interfaces) leader with 63% market share, followed by HGST with 24.6%. Western Digital began shipping SAS drives last year but it remains an insignificant part of its business.