News
Stay informed about the latest enterprise technology news and product updates.
Violin, Microsoft play NAS flash duet
Violin Memory is providing a window into its roadmap this week at Microsoft TechEd.
Violin and Microsoft are demonstrating what the vendors call a NAS "cluster-in-a-box" with Windows Server 2012 running natively on Violin's 6000 Flash Memory Array. Violin intends to eventually ship the product as a specialized appliance to handle enterprise file services.

Download this free guide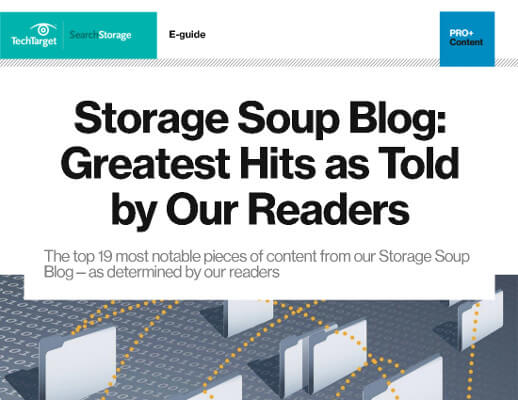 Can't get enough Storage Soup?
We understand! That's why we've compiled the most viewed blogs from 2018 for you in this easily downloadable PDF. From technologies like hyper-converged clouds and TLC 3D NAND to new launches from HPE and NetApp's cloud-flash pivot, our editors have you covered.
Violin's current arrays handle block storage. For the NAS box, it added two x86 Intel servers to run Windows. Windows Server 2012 gives the array snapshot, deduplication and replication features.
Other appliances tuned to specific applications will likely follow, says Violin marketing VP Narayan Venkat.
"This cluster-in-a-box is intended to deliver highly scalable file services for large enterprises and internal private clouds," Venkat said. "It's the first in a possible series of application appliances. We'll release the file services one first. The others may be database-in-a-box or private-cloud-in-a-box. We have a tremendous amount of interest from other OEMs. The types of applications that would leverage the 6000 would be databases, 'big data' analytics or massive VDI [virtual desktop infrastructure] in a box."
Violin VP of corporate marketing Matt Barletta said the Violin 6000 has a street price of around $6 per gigabyte to $9 per gigabyte.
Violin has raised $180 million in funding since late 2009, making it the best funded of the all-flash storage array startups. Barletta said EMC helped prime the market for all-flash storage when it spent $430 million to acquire XtremIO last month. The best part for Violin is that EMC won't ship an XtremIO array until next year.
"My birthday is next week, and I view that as an early birthday present," Barletta said.