News
Stay informed about the latest enterprise technology news and product updates.
Veeam and Pure Storage team up on data protection, production
Four months after the release of Veeam's Universal Storage API, Veeam and Pure Storage have teamed up to streamline data protection and storage, and speed recovery.

Download this free guide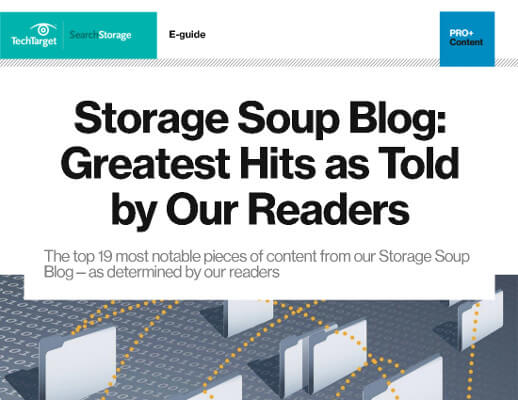 Can't get enough Storage Soup?
We understand! That's why we've compiled the most viewed blogs from 2018 for you in this easily downloadable PDF. From technologies like hyper-converged clouds and TLC 3D NAND to new launches from HPE and NetApp's cloud-flash pivot, our editors have you covered.
The integration — initiated through the API — between the Veeam Availability Platform and the Pure Storage FlashArray allows joint customers to lessen the impact on production environments by using Pure snapshots, and back up more often to reduce recovery point objectives. Also through the Veeam and Pure Storage integration, customers can create snapshot-only jobs to add more frequent recovery points.
With Veeam Explorer for Storage Snapshots, customers recover individual items or entire virtual machines directly from Pure Storage snapshots for faster recovery time objectives.
Veeam and Pure Storage customers can also use Pure snapshots to create an on-demand isolated test environment to use production workload copies for testing and development, analytics and security.
"It's really a 'better together' story," especially for virtualized environments, said Ken Ringdahl, vice president of global alliance architecture at Veeam.
In addition, joint customers can use Pure Storage FlashBlade, a scale-out storage system for unstructured data, as a Veeam Ready Repository. That enables customers to use all Veeam software features.
A Pure partnership with Veeam
The API was released as part of the Veeam Availability Suite 9.5 Update 3 in December.
Pure Storage, like Veeam, is investing in the enterprise, said Carey Stanton, vice president of global business and corporate development at Veeam.
In the past year, Veeam has released a number of product updates targeted toward enterprise customers. For example, Veeam Availability Suite 9.5 Update 3 includes a central console to manage backup and recovery across virtual, physical and cloud workloads. Veeam also added physical support through an OEM deal with Cristie Software.
At the end of 2017, Veeam closed its acquisition of N2WS, which extended its enterprise and cloud data protection reach.
Veeam and Pure Storage have had a partnership for years, with features such as snapshot integration. Michael Sotnick, vice president of global channels and alliances at Pure, said that more integration will follow.
"It's only the first inning in this game," Stanton said.
The integration, available for download now, is a storage plug-in to the Veeam Availability Platform.