News
Stay informed about the latest enterprise technology news and product updates.
VMware CEO sings VSAN's praises
Hyper-convergence is a rock star at VMware these days, according to CEO Pat Gelsinger.
VMware's earnings report Monday was better than expected, and Gelsinger called out VSAN hyper-converged software and NSX software-defined networking as the "rock stars" and "rocket ship products" of the quarter.

Download this free guide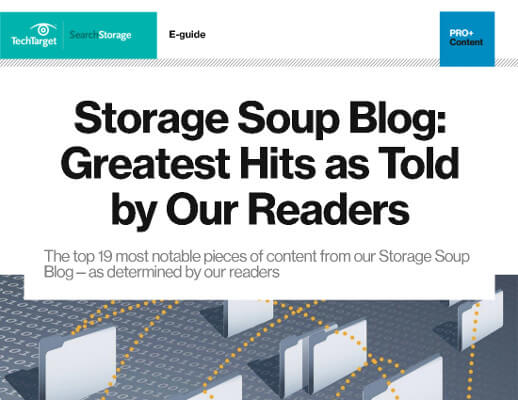 Can't get enough Storage Soup?
We understand! That's why we've compiled the most viewed blogs from 2018 for you in this easily downloadable PDF. From technologies like hyper-converged clouds and TLC 3D NAND to new launches from HPE and NetApp's cloud-flash pivot, our editors have you covered.
"They were just fabulous," Gelsinger said.
Later during the earnings call he said VSAN was the biggest star of the quarter.
"If I would call out one product in Q2 that just blew their numbers away, VSAN is it, and it was the rock star of Q2 above all others," Gelsinger said.
He said VSAN more than tripled license bookings from a year ago, with help from EMC's VxRail appliance that uses VSAN software. He said Dell's decision to resell VxRail helped push VSAN sales.
VMware and its parent company EMC are in the process of being absorbed into Dell as part of a $67 billion transaction.
Hyper-convergence is a highly competitive market now with all large server vendors and most large storage vendors involved, along with private companies such as Nutanix and Simplivity that pioneered the technology. Gelsinger said now that VSAN has been in the market for two years, the technology is ready for enterprise use.
"A storage product, you ship it, and about two years later the market says yes to it," he said. "They test it. They try it. You can't afford data loss. So there really is a gestation cycle in the market for these products."
VMware's $1.6 billion in revenue and $265 million in profit were up significantly from the same quarter last year and beat Wall Street analysts' expectations.