News
Stay informed about the latest enterprise technology news and product updates.
VCs and IT execs discuss IT's brave new world in Boston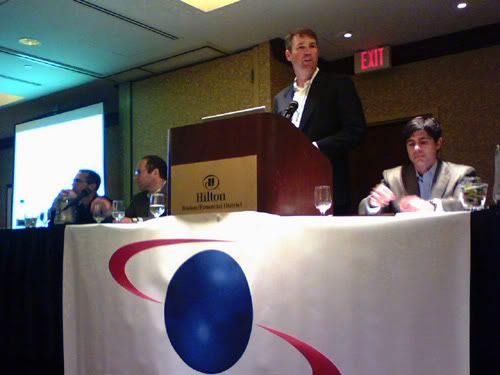 Panel moderator Andrew Williamson of Alexander Dunham Capital Group Inc.
leads a discussion about IT industry consolidation and innovation at The BD Event
on Monday afternoon.
Venture capitalists and business development types of all stripes met in downtown Boston today for the first BD Event, a new networking conference for vendors in the storage, security and virtualization markets. According to a panel discussion this afternoon, the IT market can expect further consolidation along the lines of Sun/Oracle and NetApp/ or EMC/Data Domain, but VCs said that will make room for new, more innovative companies, especially in cloud storage.
The panel included two executives from storage vendors with M&A experience: John O'Brien, senior director of corporate development at EMC; and Peter Levine, senior vice president and general manager at Citrix, and reps from three venture capitalist firms: Mark Rostick, director of Intel Capital,; Ash Ashutosh, partner with Greylock Partners (Ashutosh also sold AppIQ to HP a few years ago); and Charles Curran, general partner at Valhalla Partners, a VC firm that backed Nirvanix, LeftHand Networks, and Sepaton.
According to Levine, the IT industry can expect more heavy consolidation throughout this year, "but that consolidation is more financially driven than customer-driven," he said. "I don't think IT buyers really want one virtual integrated stack – the last thing customers want is IT lock-in."
Nonetheless, he added, "Consolidation absolutely will happen. The big survivors, to grow, have to start getting into areas they weren't in before, and without question that verticalizes the market."
(As for who the likely candidates are for further consolidation – no one I talked to at the event had heard anything about actual talks, but there was a lot of chatter at the conference about IBM/Brocade and Cisco/NetApp acquisitions).
Levine and O'Brien said smaller acquisitions at their own companies are being scrutinized more and more carefully these days. Smaller companies take longer to add to an acquiring company's bottom line and tend to raise operational costs during integration, Levine said. Instead, Citrix will probably focus more on new partnerships with promising small companies. EMC's O'Brien said that EMC has done just two small asset deals so far this year (aside from its $1.8 billion bid for Data Domain).
Panel moderator Andrew Williamson of Alexander Dunham Capital Group Inc. said the percentage of asset sales among new acquisitions has risen in the last six months to 30%. That type of deal represented 16 to 20% of M&A activity in 2008. Meanwhile, the number of VC firms funding startups has declined since 2007 as has their average investment in new companies, along with the revenue multiples they can expect as a return when their portfolio companies are sold or go public.
In other words, get ready for a world in which the number of major vendors will shrink, but there will be less funding for the types of companies that popped up between 2000 and 2003 with a burst of innovation that led to a flurry of IPOs and acquisitions over the last few years.
However, the old rule still applies – "Big companies can't innovate at the level of startups," said Valhalla's Curran. The VCs assured the audience that new storage and security products would still be coming down the pike.
Cloud storage and software will be king
The VCs on the panel agreed about where the money's going in storage these days. They all indicated they were doing few if any deals involving hardware systems. "It's less capital-intensive," said Curran, adding that the shift towards IP networking in the enterprise data center and virtualization would be the biggest trends going forward. Ashutosh also said he was most interested in software companies. "The trend is shifting away from boxes and to the disruptive nature of virtualization and the cloud," he said. Intel's Rostick said his company would invest in at least one more security and one more storage company this year, and would also be focused on the cloud, virtualization and what he called "I/O complexity."
EMC's O'Brien said he'd been "well coached to stick to [EMC CEO] Joe [Tucci]'s script" when it comes to Data Domain, and he wouldn't get specific about what other areas EMC may be eyeing for acquisitions this year. He did say EMC also would focus on virtualization and the cloud going forward.
Some of the cloud technologies that come out in the next year or so may look familiar to IT users, but optimizing technologies for cloud deployment will become its own area of expertise, according to Ashutosh. "There's an emerging trend of innovation around delivery and business model – not just new ideas in technology, but also business," he said.