News
Stay informed about the latest enterprise technology news and product updates.
Symantec Vision–Dispatches from Keynote Central
Coming to you from sunny Las Vegas, in the "Blogger's Lounge" inside Symantec's Vision City (their name for the show floor). Seemed apropos.
In addition to the Blogger's Lounge, which consists of picnic tables set up on a large field of Astroturf in the middle of the floor that has been dubbed "Central Park", Vision City has a Financial District, consisting of business partners' exhibits, and Tech Row (no relation to Skid Row, presumably), where product demos are being held. Central Park also has Wii video games, robotics competitions, and obstacle courses for remote-control cars.
In each of this year's seven keynotes, Symantec has shown similarly slick production values, beginning with an address given by data center group president Kris Hagerman on Tuesday.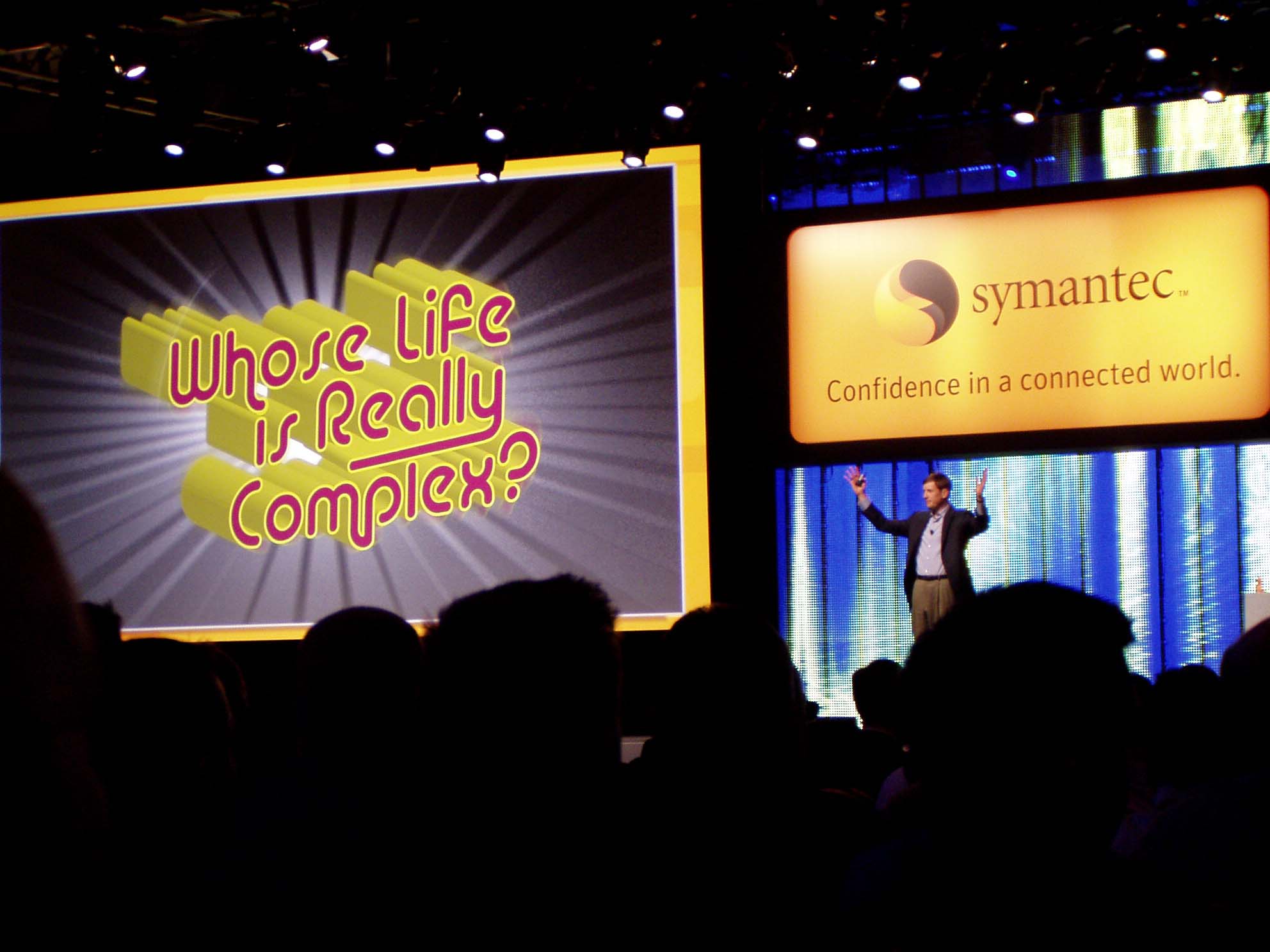 Quite often when they roll video at a conference general session, attendees can be seen checking their watches, email, or taking advantage of dimmed lights to catch some shuteye. But the video during Hagerman's address, called "The Complexity Master", was a hit with the crowd, who responded with genuine belly laughs to the Office-Space stylings of the short film, which documented a day in the life of a backup administrator trying to sell his company on standardizing on the NetBackup platform (the vid was, of course, not completely without marketing).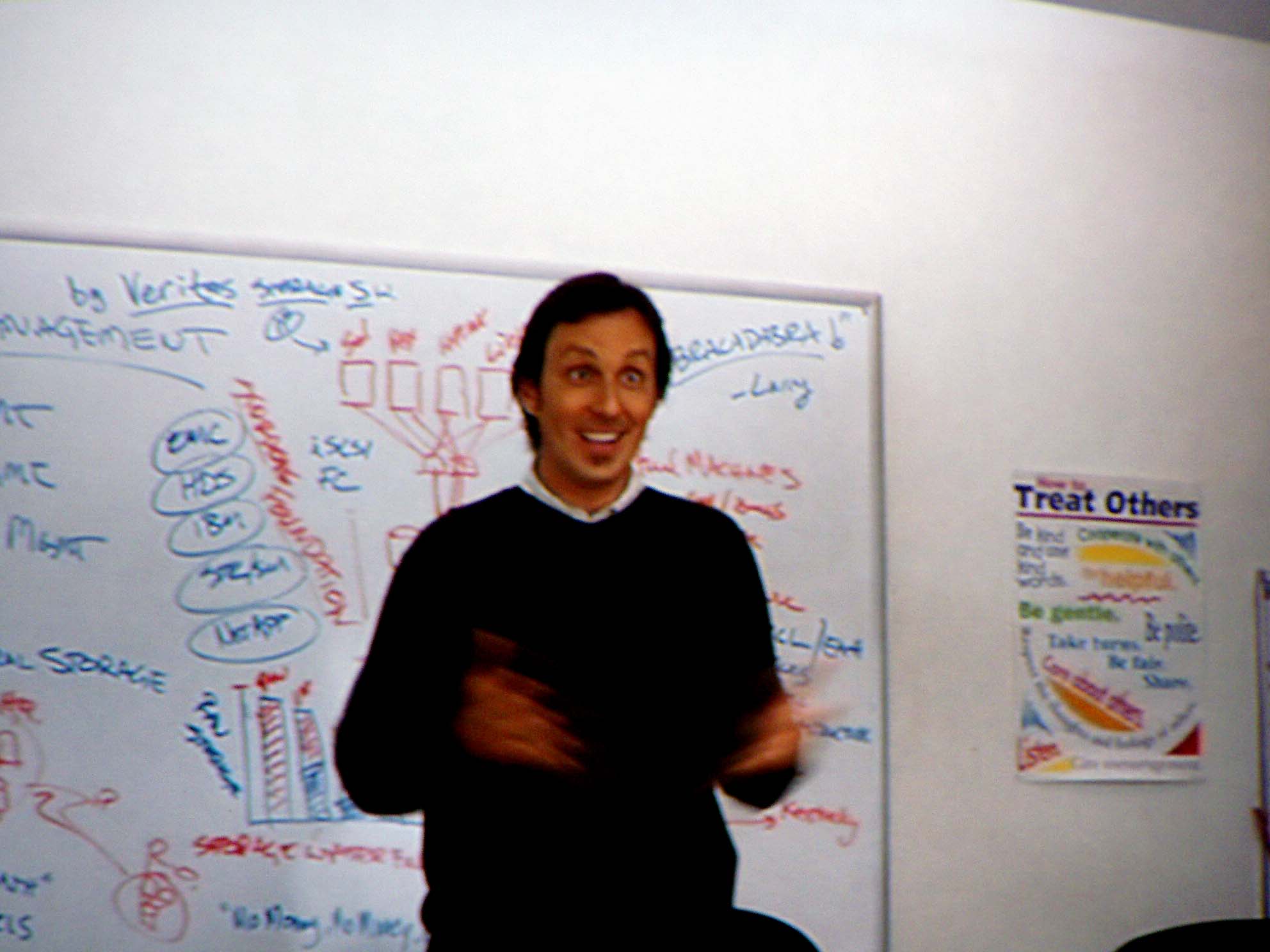 The biggest laughs came when the Complexity Master, a Southern California comedian hired for the role, and his supporting cast (presumably of other comedic actors), were given the dialogue most backup admins either imagine or wish would happen during meetings with business units–witness the one higher-up who chews his donut thoughtfully before saying, every time he's called upon, "that sounds…complicated."
We can only hope it gets leaked to YouTube.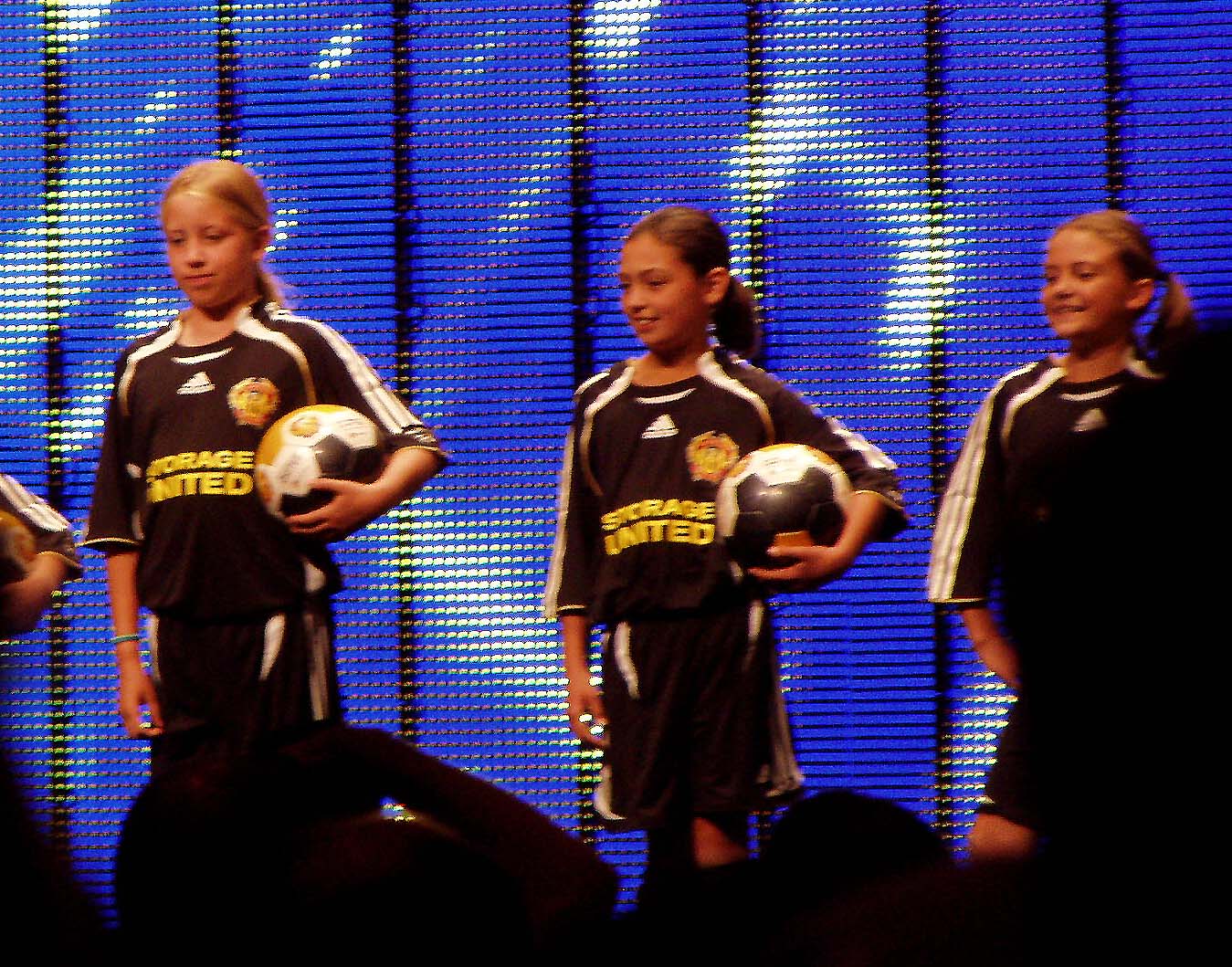 Video hijinks weren't the end of the three-ring circus at Hagerman's keynote, either. Senior director of product marketing Matt Fairbanks bounded onto the stage sporting one of the "Storage United" soccer jerseys (after Manchester United, DC United, et al), and was later joined by a girls' under-10 soccer team from Silicon Valley, who handed out soccer balls and jerseys to the crowd. The talk of the conference following the session was the tiny pigtailed soccer player who flawlessly rattled off a spiel about replacing her TSM and Legato environments and achieving huge ROI when asked what she thought of the new NetBackup. Somebody get that girl an agent.
More nuggets from the show for your reading pleasure are below the fold.
Symantec quibbles with IDC numbers
IDC released its Quarterly Storage Software Tracker on Monday, and the results were less than stellar for Symantec, which, it was reported, lost overall market share (-1.6%) as well as share in infrastructure management (-2.3%), storage management (-1%) and replication software (0.3%). Symantec was also shown losing reenue in archive and HSM software (-1.2%) and data protection (-2.3%). Hagerman said IDC has a focus on short-term license revenue, while Symantec is focused on overall bookings and long-term relationships with customers, and that all its growth is in deferred revenue. Conveniently, Symantec also "doesn't break out deferred revenue growth by business unit," so there's no way to tell what amount of money Symantec is waiting on.
Some fine print on NetBackup's new disk options
During a technical deep-dive session on NetBackup's new disk options on Wednesday, Symantec software engineers filled users in on some of the finer points of the new software. Within the new Flexible Disk Option there are three sub-categories of disk-based backup: BasicDisk, AdvancedDisk and SharedDisk. BasicDisk uses a single volume with a single master server; AdvancedDisk uses multiple disk volumes with a single master, and SharedDisk uses multiple masters and disk volumes. Currently, SharedDisk is supported with EMC, NetApp, HP and IBM arrays only; the engineers said this is because API access to the arrays is necessary to remove their LUN masking so backup clients can access the disk directly.
The session also explored the finer points of the ever-popular SAN client, which allows backups over the FC fabric. This feature requires a separate SAN zone capable of handling throughput of 175 MBps; "ISLs and trunks have the potential to be bottlenecks" with this feature as well, according to Tim Stevens, senior manager of product development.
User panel talks backup reporting
A late but well-attended session on Thursday moderated by "Mr. Backup" himself, W. Curtis Preston, got users talking about data protection management products, including Aptare and Backup Reporter. Panelists from the SAS Institute, Serverware, Qualcomm and TD BankNorth agreed that backup reporting was most useful when it came to presenting stats not for themselves but for their management overseers. The users also admitted that the process can be rocky on first implementation when backup failures are inevitably revealed, and Preston said a desire to avoid that exposure might be limiting the market for DPM products.
However, one attendee, Charlie Frey, SAN manager for a large payroll processing company, approached the mic during the session to say that using Aptare's DPM software had resulted in a "complete rebirth of our relationship with Symantec" after the product revealed that problems in the environment which had been blamed on NetBackup were actually occuring elsewhere. "It led directly to a new six-figure deal with Symantec," he said.
Symantec goes green–with water bottles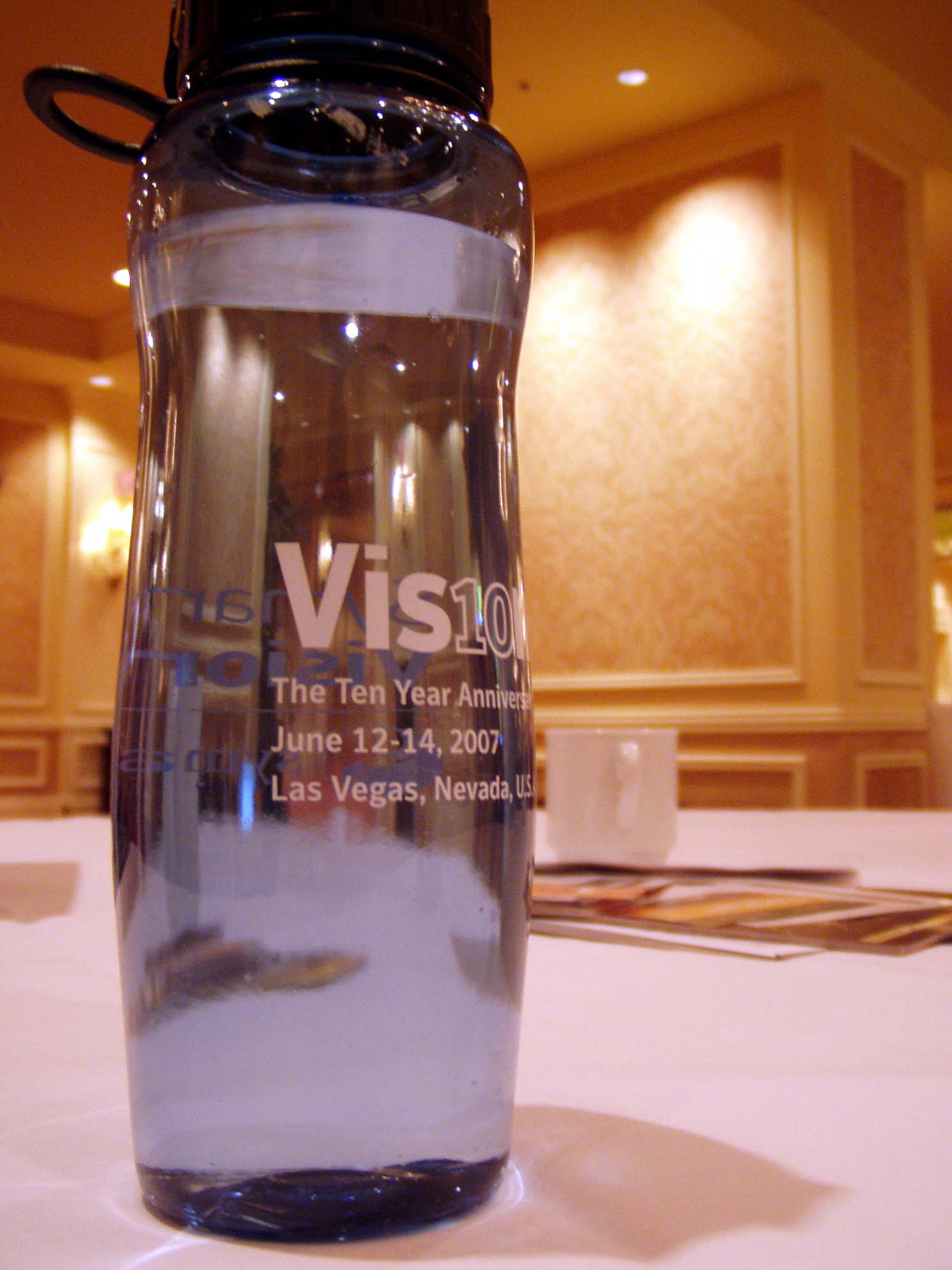 As a software company, Symantec doesn't have much of a hook into the power and cooling topics that are all the rage around hardware of late, so its way of acknowledging the "green" fad came as part of its gift bags: a plastic water bottle which Symantec encouraged attendees to refill at the water coolers stationed around the show. The company said in explanatory signs that if everybody used the reusable bottle, it would save 115,000 plastic bottles from going to landfills.
Waves of the future: the last keynotes
What would the grand finale of the conference be without a couple more keynotes? Mark Bergman, EVP and CTO, looked deep into his crystal ball to tell users that within the next ten to 15 years, data centers would come to look like Google's: commodity hardware farms linked by software. As an aside, Bergman also revealed that Symantec is working on a specific storage platform for virtual servers, which will keep a "golden copy" of common files (Compellent introduced a similar feature in March).
Following Bergman, group president of the consumer business unit Janice Chaffin talked about the blurring line between consumer and enterprise technology, as well as personal and professional devices. The mix of business and personal information already typical of employees' portable devices will result in an uncomfortable mix of information in backups–personal files on backup tapes at work, and business files on unsecured backup services at home. "Enterprise backup strategies must be more comprehensive," Chaffin said.
Best final conference presentation ever…

…at least if attendance is any indication. Blue Man Group (which has a permanent show at the Venetian), played to a packed house as the finale to the conference. The audience, many of them toting luggage for a dash to the airport after the show was over, gave the Blue Men a rousing ovation as the conference drew to a close.
If you missed the show, check out these stories on all the major announcements.
Symantec tips hand on CDP roadmap
Users dish on Symantec PureDisk