News
Stay informed about the latest enterprise technology news and product updates.
Sun has more ZFS visions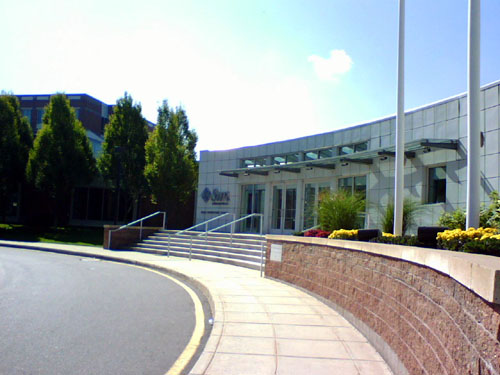 Sun's campus in Burlington, Mass. Photo by Beth Pariseau.
Today found me at Sun's campus in Burlington, Mass., one of three cities across the world where Sun was holding "virtualization chalk talks" with press–the others were San Francisco and London.
Why this big fanfare? Sun's coming out with its own version of a server virtualization hypervisor based on open-source code from Xen and its LDOM "container" offering for UltraSparc servers. Rumors have been circulating about it recently and Sun wanted to clarify its vision.
So what does this have to do with storage? My question exactly. The answer: at this point, probably something, but Sun's a little light on the details. ZFS was mentioned, of course, as the underlying filesystem for virtual machines running on its xVM Server.
One of the VPs presenting today, Sun's Connected Systems group leader Steve Wilson, also pointed to the example of the Texas Advanced Computing Center (TACC), which is running a 4000-node IBM blade server farm attached to Sun's big honkin' Magnum InfiniBand switch (3456 ports) and a grid of (guess what) "Thumper" SunFire X4500 servers for storage.
This all ties in–vaguely, at this point–with the announcement from Sun on Monday that it's melding its server and storage groups. Sun's futuristic vision is that server processors and Ethernet pipes are catching up to traditional storage subsystems and Fibre Channel fabrics in terms of performance and scalability. It's essentially a different twist on Sun's "the network is the computer" mantra that suggests "the server is the SAN."
Meanwhile, Sun is announcing a software product to go along with xVM called Operations Center, which will manage both physical and virtual server systems in one console. Eventually, when the lion lies down with the lamb, and grid data centers run in server / storage peace and harmony, said software (theoretically) will also manage the Thumper grids everybody's going to be using for storage.
That's the idea, anyway. The roadmap is, to put it mildly, unclear. Sun spent most of its time today talking about its new server virtualization technology, and aside from ZFS and Thumper, no specific storage products or services were mentioned, nor was any time frame given for the extension of Operations Center to storage systems, or when or if Sun's virtualization vision will extend to incorporate traditional storage subsystems.
As always, when it comes to Sun and storage, ZFS is the glue, the linchpin, the centerpiece and the mantra. ZFS is what makes Thumper tick, it'll be the file system underpinnings for Sun's virtual servers, and it apparently will also be key to this "data center of the future" Sun is planning out.
But there's an elephant in the room. "What happens," asked this reporter of Sun's officials in Burlington, "if NetApp wins its lawsuit?" (For those of you unaware, NetApp has filed a cease-and-desist lawsuit against Sun claiming ZFS violates NetApp's NAS patents. The two may eventually drop their posturing and come to some sort of cross-licensing agreement, but as things stand right now, a NetApp win means not a licensing deal but a mandate to stop distributing ZFS altogether, period.)
You could've heard a pin drop when the question was asked today. Finally, the response was, "We are not going to talk about ongoing litigation."
Reading between the lines, though, it appears that the rest of Sun is following along with Jonathan Schwartz's somewhat nonchalant attitude toward the lawsuit–the message that seems to be coming from all this is that Sun's confidence in its legal position is such that it doesn't feel compelled to hold off one bit with ZFS. But at the same time, it does beg the question of what could happen as they move forward with a storage product strategy that is so heavily dependent on a disputed piece of IP.