News
Stay informed about the latest enterprise technology news and product updates.
Sun fires another shot at NetApp
Although NetApp fired the first volley in its ZFS lawsuit against Sun Microsystems, Sun has been the aggressor since NetApp's initial strike. Following NetApp's lawsuit last September charging that Sun violated several of its patents regarding ZFS, Sun countersued and accused NetApp of violating Sun's patents. Sun has also asked the U.S. Patents Office to re-examine several NetApp patents.

Download this free guide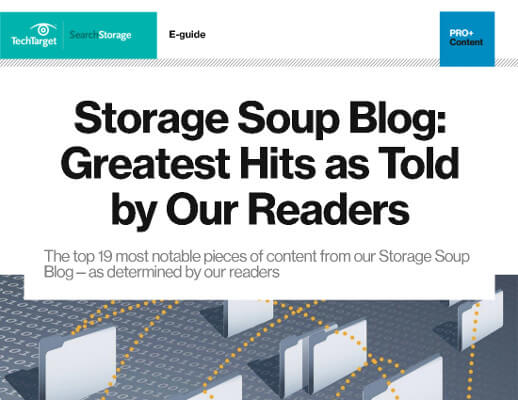 Can't get enough Storage Soup?
We understand! That's why we've compiled the most viewed blogs from 2018 for you in this easily downloadable PDF. From technologies like hyper-converged clouds and TLC 3D NAND to new launches from HPE and NetApp's cloud-flash pivot, our editors have you covered.
Sun filed yet another lawsuit Wednesday, alleging patent infringement related to storage management technology NetApp acquired when it bought Onaro in January.
"As NetApp attempts to extend its product line, it also expands its exposure to Sun patents," Dana Lengkeek of Sun's Corporate Communications office wrote in an emailed statement.
The latest lawsuit filed in U.S. Discrict Court in the northern district of California claims that software NetApp gained from Onaro uses Sun's patented technology. Sun seeks compensation from NetApp for patent infringement and an injunction preventing NetApp from using Sun's technology.
Sun also revealed the U.S. Patent Office granted its request to re-examine NetApp's patent related to its "copy on write" technology.
But perhaps the harshest accusation Sun leveled against NetApp in its latest filing came in the opening paragraph of the suit. Chiding NetApp for only spending about $390 million on research and development last year and for holding "only approximately 200" patents, Sun declared: "Indeed, rather than innovate, NetApp builds on the innovation of others" and "NetApp … uses extensive amounts of open source code developed by others, without contributing any innovation of its own."
Instead of demanding money if it wins the suit, maybe Sun should request that NetApp change its already-taken slogan "Go Further, Faster " to "NetApp: Built on others' innovation."
NetApp responded to the latest suit with a terse: "NetApp does not comment on ongoing litigation."