News
Stay informed about the latest enterprise technology news and product updates.
StorageCraft buys backup analytics from Gillware
StorageCraft will use its new analytics technology to tell its customers to stop backing up certain data.
That's right, the data protection vendor wants its customers to back up less. And StorageCraft's acquisition of Gillware Online Backup from Gillware Data Services this week will help it do that.

Download this free guide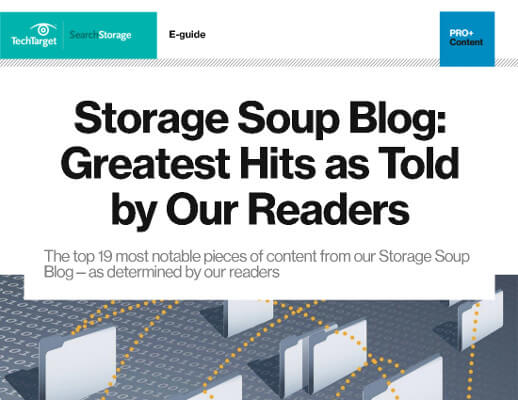 Can't get enough Storage Soup?
We understand! That's why we've compiled the most viewed blogs from 2018 for you in this easily downloadable PDF. From technologies like hyper-converged clouds and TLC 3D NAND to new launches from HPE and NetApp's cloud-flash pivot, our editors have you covered.
StorageCraft's flagship ShadowProtect SPX software backs up virtual and physical Microsoft Windows and Linux servers. It also sells Cloud Services replication software, GranularRecovery software for Exchange, and management and monitoring software.
The key piece of Gillware Online Backup is Backup Analyzer. The application can look at all of a customer's files, suggest those that have not been backed up and which files may not need to be backed up.
StorageCraft CEO Matt Medeiros said Backup Analyzer technology will optimize ShadowProtect backups, and he expects the Gillware development team to expand its current technology.
"Knowing what you should back up can be difficult," Medeiros said. "Backup Analyzer helps customers determine high, medium and low priority for backups. Now we can help customers intelligently tier their data.
"The storage industry wants you to believe that all data is equal. It's not. Some companies are finding that 50 percent of their data is not even of value to the business anymore. Yet we back it up, buy more storage for it, and pay people to manage it."
Draper, Utah-based StorageCraft sells its software through managed service providers and VARs.
The Gillware Online Backup team consists of around 30 people, mainly engineers. The acquisition brings StorageCraft's total headcount to a bit over 350, Medeiros said. The Gillware team will stay in Madison, Wisconsin.
Gillware Data Services already resells StorageCraft software, and that partnership will continue.
StorageCraft did not disclose the sale price, but part of the $187 million equity investment that TA Associates made in StorageCraft in January will fund the deal. Medeiros joined StorageCraft from Dell SonicWall at the time of the TA Associates funding.