News
Stay informed about the latest enterprise technology news and product updates.
SolidFire gains its first cloud customer
SolidFire, which sells all-solid state storage arrays to cloud service providers, revealed its first customer today. Calligo, based in the U.K.'s Channel Islands, is running a series of cloud services using SolidFire storage.

Download this free guide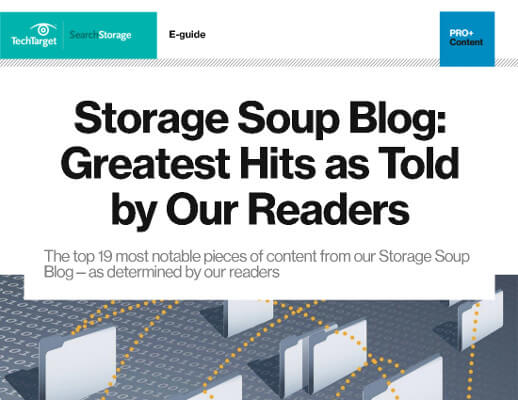 Can't get enough Storage Soup?
We understand! That's why we've compiled the most viewed blogs from 2018 for you in this easily downloadable PDF. From technologies like hyper-converged clouds and TLC 3D NAND to new launches from HPE and NetApp's cloud-flash pivot, our editors have you covered.
Calligo CEO Julian Box said Calligo went live with SolidFire about a month ago. Calligo uses SolidFire storage as the back end for its CloudSafe (Disaster Recovery), CloudDesk (virtual desktop), CloudNet (virtual network), and CloudCore (Infrastructure as a Service) services.
Box cited SolidFire's performance, automated reporting and monitoring, and the ability to scale capacity and performance independently as reasons why he chose the newcomer's array.
Calligo has one SF3010 array with 10 300GB SSDs for 3 TB of raw capacity, and Box said SolidFire's compression and deduplication gives him about 50 TB of effective capacity.
Before choosing SolidFire, Box said he looked at traditional storage arrays from Hewlett-Packard 3PAR and Dell Compellent. He said 3PAR would require hundreds if not thousands of disks to get the throughput he gets from SolidFire.
"We have oodles and oodles of power and throughput," he said. "I have five nodes for 250,000 IOPS and it takes up 5u."
He said he expects to add about one storage node a month to keep up with capacity demand. As for performance, he said "We have more IOPS now than we could ever consume."
Box also likes that he can use SolidFire's quality of service to guarantee performance on a volume basis.
"It's broken the link for capacity and performance," he said of the SolidFire array. "We can control capacity and performance like a dial."
He said the one thing missing from SolidFire is replication, a feature that could facilitate disaster recovery.