News
Stay informed about the latest enterprise technology news and product updates.
Sights and bites from SNW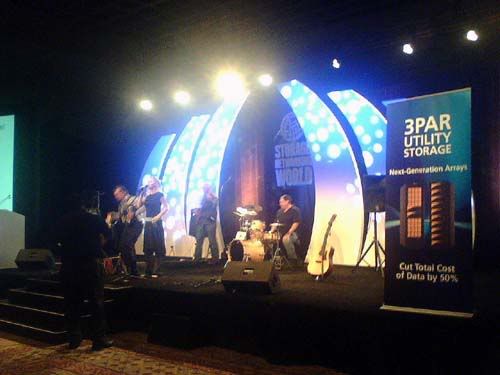 A band entertains at the SNW welcome reception Monday night.
SNW Orlando 2009 wraps up today, and the economic downturn was the elephant in practically every room at the show. It was the main topic of discussion, a factor in debates over technology trends, and a subliminal part of the background as the vendor presence dropped dramatically compared to previous shows. It was difficult to get a handle on exactly how many attendees there were–a wide range of numbers was floating around– but many of the vendor reps and analysts I ran into at the show exclaimed over how quiet it seemed compared to past years.
Most striking to me was the noise (or lack thereof) around the press room, in previous years a bustling hub of activity as armies of vendor marketing directors and PR reps briefed an equally large cadre of analysts and press. The room was smaller than usual this year, and empty at times.
However, there were still some interesting discussions going on around the show, including sneak previews of interesting upcoming product announcements.
NEC eyes content-aware dedupe
NEC's HydraStor backup and archiving grid system will soon put a new twist on its block-level dedupe, according to NEC director of product management and technical marketing Gideon Senderov. He said the vendor is working on content-aware deduplication, believing it can lead to better dedupe ratios for customers. "Backup applications insert their own metadata," he said. "Depending on how they aggregate files, you may have different metadata within them. Similar chunks can sometimes look different." Filtering application metadata from files requires integration with multiple backup apps. Sepaton's DeltaStor VTLs already take this approach.

3PAR's clever marketing campaign for its new InServ F-class arrays. I wonder whether the system name or the slogan came first.
HP has blade plans for LeftHand
LeftHand Networks' SANiQ IP SAN software will soon be ported to HP's blade servers, according to Lee Johns, marketing director for entry storage, HP StorageWorks. It's part of an overall "converged infrastructure" trend for HP, which envisions storage as a network service centrally managed by software. The company is also preparing a software framework, based on its 2007 acquisition of Opsware Inc., to centrally manage different kinds of storage devices along with servers.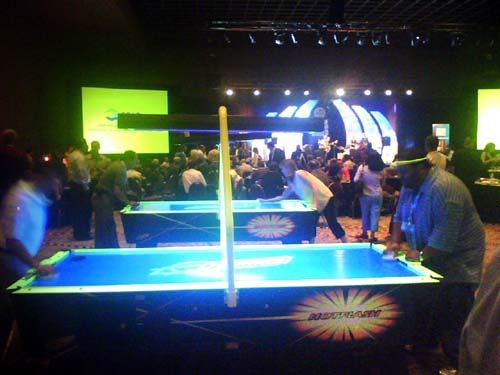 The relatively sleepy show was not without its amenities, including air hockey at the welcome reception.
Brocade CTO talks FCoE
Brocade's big announcement at the show was the rollout of its first Fibre Channel over Ethernet (FCoE) products, a top-of-rack switch and a converged network adapter (CNA). The company has taken a less bullish attitude than its rival Cisco to the technology, releasing its top of rack switches several months after Cisco released its Nexus FCoE product line. ,
CTO David Stevens and product manager Pompey Nagra went over the details of the technology with me, as well as its value proposition, which the cynical among us might see as an attempt for FC vendors to stay relevant as 10 GbE threatens to eat their lunch. Stevens pointed out that though FCoE, like 10 GbE, requires a swap-out of switching equipment in the data center, FC storage assets can remain the same. Even though convergence-enhanced Ethernet will bring the protocol more into line with FC as a lossless network with some flow controls, FC offers services like zoning and multipathing that will still be important to storage administrators, Stevens said. He also dismissed the idea that FC will fall out of favor once it's slower than Ethernet (currently, FC is at 8 Gbps; Ethernet's looking to move to 10 Gbps). "Maybe long-term," he said. "But is that big a technology shift for the traditionally risk-averse storage community really worth two more gigs per second?"
Stevens said the focus for FCoE should really be just on cutting down on the number of wires in the data center. "The first-hop technology can all be combined while preserving assets in the infrastructure."
However, Stevens also admitted this value proposition is similar to what has been promised by InfiniBand technologies, which have yet to see widespread adoption outside of high-performance computing (HPC) niches. Will FCoE be more successful because Ethernet is a more familiar interface than InfiniBand? I asked Stevens. "I don't have a good answer for you there yet," he said.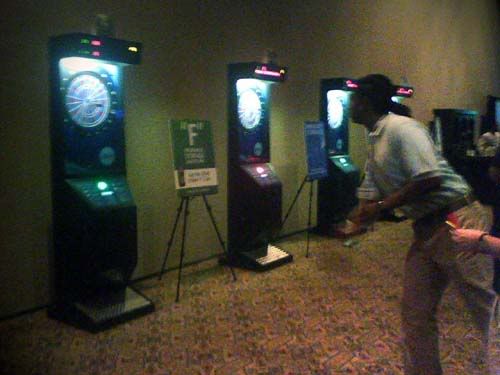 An open bar and darts–always a great combination.
Thales sees converging encryption standards
In February, Thales Group was part of a coalition of vendors that submitted a standard for interoperability between key management systems and encryption devices to the Organization for the Advancement of Structured Information Standards (OASIS) called the Key Management Interoperability Protocol (KMIP). If adopted, KMIP would mean users could attach almost any encrypting device to one preferred key management system, regardless of the vendors involved. Meanwhile, the Institute of Electrical and Electronics Engineers (IEEE) approved a standard in January 2008 for managing encryption on storage devices. Now the vendors are working on bridging between the two standards, according to Kevin Bocek, director of product marketing for Thales, so that if product developers want to roll the more-detailed IEEE spec into the more general OASIS spec, the two will be compatible. This interoperability will probably be more valuable to developers than end users, he said, as the IEEE spec contains very granular details for developing products down to specificying protocols. If engineers don't have to re-invent the encryption wheel or ensure interoperability for each of their products, it could get products to market faster or free them to focus on other innovations, he said.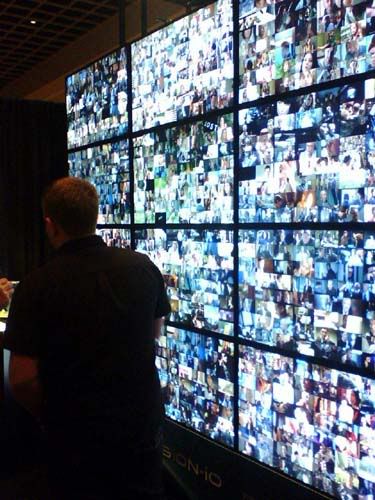 Video screens showing 1000 DVD-quality movie streams being served from one of Fusion-io's ioDrives, part of SNIA's exhibits focused on SSD technology.
SNIA SSD initiative finds 'wide variability' in SSD performance
The Storage Networking Industry Association (SNIA) had a few booths set up on the show floor focused on its SNIA Solid-State Storage Initiative (SSSI), including a demo of benchmark comparisons between different vendors' single-level cell (SLC) enterprise SSDs by Calypso Systems. CTO Easen Ho, on hand for the demonstration, walked me through bar graphs of performance results. The specific manufacturers' names were not listed (no fun!), but it was easy to see the 'stairsteps' between the different results on the graph. Still, as I peered at the screen it looked like they were all generally in the same ballpark. That's until Ho pointed out to me that the y axis of the graphs was actually a logarithmic scale. This was initially done to better compare the results against spinning disk drives, which otherwise "wouldn't even be visible on these graphs," Ho said.

Data Mobility Group analyst and StorageMojo blogger Robin Harris (left) looks for a 'man on the street' interview during a chat on the show floor with BlueArc director of corporate marketing Louis Gray.
Here are the news stories filed from balmy Florida this week: