News
Stay informed about the latest enterprise technology news and product updates.
Reporter's Notebook: Storage Decisions San Francisco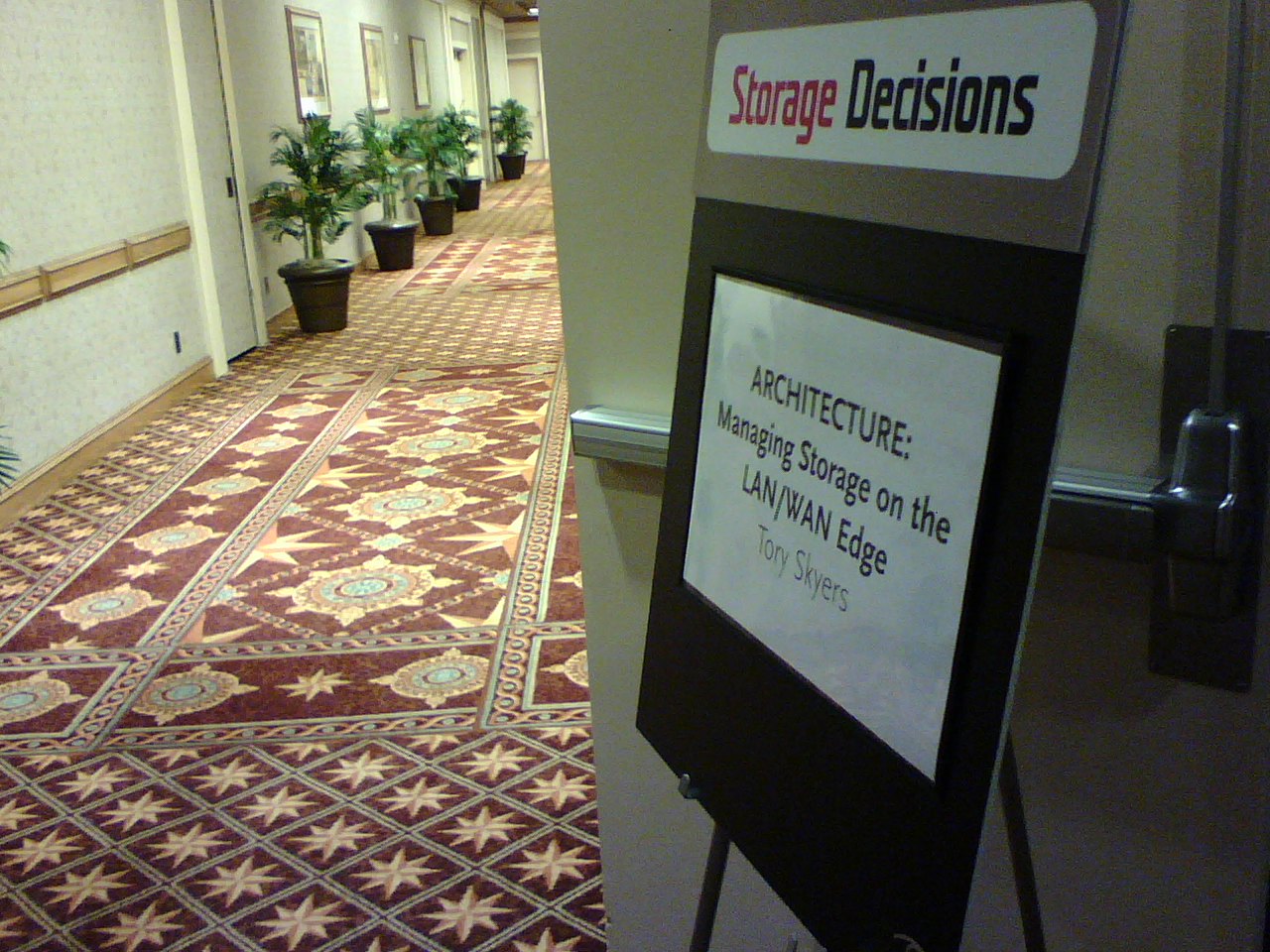 This was our first Storage Decisions conference in the hilly city built on a fault line, and that meant a fresh crop of Storage Decisions attendees and happenings.
Sun held a "trends and innovation" dinner for press and analysts concurrent with the show on Monday night (it wasn't affiliated). About two dozen Sun execs and their audience sat down to a gourmet repast at San Francisco's trendy Absinthe restaurant. Execs and Sun reps including Chief Technology Officer and Executive Vice President of Research and Development Greg Papadopoulos, CIO Bob Worrall, Executive Vice President of Systems John Fowler, and distinguished engineer Subodh Bapat.
As always, Sun was articulating grand visions of the future. "The storage marketplace is about to undergo its most rapid set of changes possibly ever–it will change the economic fortunes of a number of companies," Fowler predicted (Sun is hoping this will hold true in a positive direction for its storage products). Cost per capacity will be "one-tenth of what you see today."
Like fellow large players IBM and EMC, both of whom have recently acquired storage service-provider companies, and Symantec, which is preparing a software-as-a-service (SaaS) backup offering, Sun is keen on outsourcing as well. Eventually, according to Bapat, there will only be a few "really big computers" in the world run by companies like Microsoft and Google in "mega data centers" like Google's famed farm of PCs. Sun would also like to become a service provider itself, but their real focus is on selling equipment into those service-provider data centers. Sun was already part of a similar build-out in the telecom industry in past years, though it was also pointed out that companies like Google have already done their build-outs just fine without Sun.
Meanwhile, new "mega data centers" are beginning to spring up, including a new 500,000 square-foot, 50-megawatt behemoth being built for a national lab set to open next year, according to Bapat. "50 megawatts is bigger than a small city would consume," Bapat said. "Utilities are going to become a real problem."
Bapat also predicted that within the next year, a major data center failure will "cause major national effects, and bring forward the importance of data centers as national assets."
Sun loves to look out 15 years, but ask about the next 15 months and it's a trickier question. Sun's recently announced partnership with Dell is part of its attempt to position itself better in the market; Sun will also be going after service provider customers such as SmugMug, according to Worrall, and developing server-farm products with its partners at research universities. How that'll translate into specific products and sales remains largely unclear.
Sun is on to something when it comes to Fowler's prediction about the pace of change over the next year, according to Taneja Group founder Arun Taneja. "We're in such a vibrant market right now," he said. "I have never seen so much change and innovation happening all at once, ever."
***
Some visuals from the show floor (click to see larger versions, mouseover for descriptions)

***
Everybody's favorite user-blogger Tory Skyers was Mr. Storage Decisions this year, presenting on the storage issues presented by new mobile devices and participating in a user panel on storage management. Skyers warned users not to overlook the trend toward iPhones and home servers. "An executive buys a home server, plugs in his laptop at home, and the home server asks, 'wanna back it up?' Then his kid comes home with the Trojan du jour and suddenly your company's data is in the Eastern bloc somewhere."
The flow of data leakages happen both ways in the mobile world, he added, with mobile devices blurring the line between personal and corporate data repositories. "So mp3s and AVIs and maybe even that Trojan find their way to the laptop, which finds its way to your data center, which finds its way to your SAN and your network." Tory gave some how-tos on controlling some of that flow of information on both sides of the equation, including "using social networks in your work environment to enforce policy"–specifically, a "Page of Shame" for violators of company storage policies pertaining to mp3s etc. and strategically placed rumors of "someone getting busted" for violating policies. He recommended tools like Desktop Authority and Powerfuse for content filtering and executable monitoring for contraband files, using open-source and free Microsoft tools to create document templates for data classification, and Surfcontrol Mobile Filter to restrict access to Websites and protocols even when users are off the network and VPN on company machines. Desktop Authority and Powerfuse will also restrict which mobile devices can be plugged in to a corporate machine–a USB mouse will get through but not a thumb drive or iPod.
"This is a better alternative to sealing your USB ports with epoxy," something Tory said he'd been asked to do before (by an exec who then realized he had no way to plug a mouse in to a $2500 machine).
In the course of his presentation, Tory also referenced the following tidbit from CNN: customs and border guards can confiscate anyone's laptop without any grounds for suspicion and copy all the information held within it. Terrifying.
***
Some more visuals from around the conference:

***
On Wednesday users gathered for a peer discussion on virtualization that turned up some interesting things, including–be still our hearts–an actual, living, breathing, Invista user (we wanted to take his picture). Very few of those present have actually deployed storage virtualization and those considering storage virtualization tools were also in the minority among this group. "I'm wondering what the benefits are that other people have seen to virtualization, what the return is," said one user.
The majority of users saying they'd begun virtualizing are using HDS. Almost all users with storage virtualization in place said they used it to front other arrays from the same vendor, with the exception of migrating data from decommissioned storage. "You just don't want to get into finger-pointing with the different vendors," according to one attendee.