News
Stay informed about the latest enterprise technology news and product updates.
Reduxio Systems snares venture funds, moves closer to IPO
Storage startup Reduxio Systems has bulked up its venture capital, a stepping stone to a potential IPO.
On Monday, the hybrid flash vendor nabbed $22.5 million in Series C financing from private and institutional investors. It is the first of two tranches anticipated in a funding round subscribed at $32 million. An additional $9.5 million is expected to be finalized by the second quarter.

Download this free guide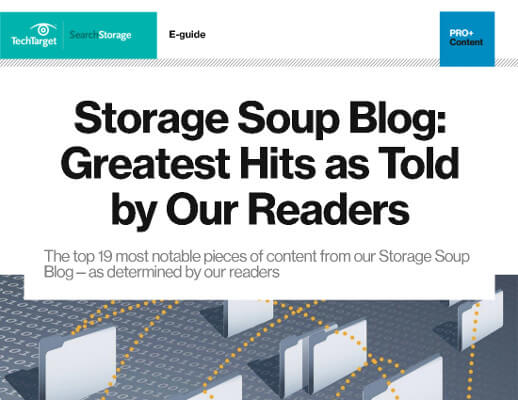 Can't get enough Storage Soup?
We understand! That's why we've compiled the most viewed blogs from 2018 for you in this easily downloadable PDF. From technologies like hyper-converged clouds and TLC 3D NAND to new launches from HPE and NetApp's cloud-flash pivot, our editors have you covered.
London-based C5 Capital is the lead investor, with participation from original investors Jerusalem Venture Partners and Carmel Ventures, both based in Israel. Institutional investors Intel Capital and Seagate Technology also participated. The startup has collected approximately $65 million in equity capital since its 2015 debut.
Reduxio Systems sells branded block storage software bundled on standard Seagate servers. Its TimeOS provides continuous data protection with BackDating, which timestamps metadata to allow data to be recovered from any point in time. The software tiers deduplicated writes to disk and keeps active data on flash storage.
Proceeds will help Reduxio Systems expand its engineering, marketing and sales teams. A planned software upgrade this year will support cloud tiering and shared storage, said Mike Grandinetti, Reduxio's chief marketing and corporate strategy officer.
"We are an appliance-based company, but 99% of the customer value we provide is in software. Over time, our vision is to be a fully software-defined model," Grandinetti said.
Grandinetti said Reduxio has about 150 storage arrays deployed by more than 100 customers.
Reduxio's executive team includes several data storage industry veterans. CEO Mark Weiner in 2010 sold clustered NAS vendor Exanet to Dell, which integrated the technology in its EqualLogic and entry-level PowerVault iSCSI systems. Prior to that, Weiner sold virtualization startup StorAge Networking Technologies to LSI Corp. (now part of Avago Technologies).
Grandinetti claims Reduxio Systems can reshape storage "very much the way NetApp did 20 years ago." What Reduxio needs to avoid in that analogy are the fitful starts that stalled NetApp's momentum in flash and the cloud.
"We're not in this for the short term; this is a legacy play for all of us," Grandinetti said. "Our ideal is to take this thing as far as we can, and that would mean an initial public offering."