News
Stay informed about the latest enterprise technology news and product updates.
Quantum pockets Pancetera for virtual server backup
Quantum acquired startup Pancetera Software today, giving it virtual server backup for its DXi data deduplication family right away. In the long run, Pancetera can also add intelligent storage management for virtual environments to Quantum's StorNext file system.

Download this free guide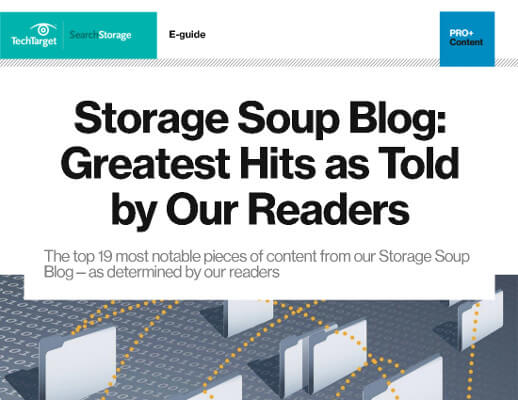 Can't get enough Storage Soup?
We understand! That's why we've compiled the most viewed blogs from 2018 for you in this easily downloadable PDF. From technologies like hyper-converged clouds and TLC 3D NAND to new launches from HPE and NetApp's cloud-flash pivot, our editors have you covered.
Quantum paid $12 million for Pancetera, which came out of stealth last August with its Pancetera Unite virtual appliance designed to optimize virtual machine backup. It added SmartMotion software in April, enabling Unite to push data from virtual machines directly to any NAS target without requiring staging servers with dedicated backup software.
By owning the technology instead of forging a partnership, Quantum is looking to develop new products for protecting and managing storage connected to servers running VMware.
"This gives us immediate value for DXi and virtual environments, and it will allow us to have unique roadmap items with DXi," Quantum CEO Jon Gacek said. "The reason we went with an acquisition instead of an OEM deal is we can combine this with StorNext to develop solutions to manage storage – not just backup, but storage – in virtual environments."
Gacek said Quantum will immediately offer Pancetera software with DXi systems sold for virtual environments. "We're in deals now where we know that software will make the difference," he said.
He said Quantum will also sell Pancetera to existing DXi customers, but he's not sure if it will make Pancetera software available as a widescale standalone product. "We haven't decided if we want to enable its value to our competitors' customers," he said. He said he expects Pancetera technology with StorNext to hit the market in an appliance for virtual data in 2012.
"Virtualization creates a lot of unstructured data," Gacek said. "StorNext with Pancetera gives us the ability to get inside of a VMDK, and you can imagine some of the things we might do."
Quantum tried attacking the VMware backup problem with OEM partner PHD, licensing its esXpress product in 2009. But that relationship fell apart last year. Gacek said the OEM deal didn't give Quantum enough control over the technology.
Quantum is hiring most Pancetera employees, including founders Mitch Haile (CTO) and Greg Wade (VP of engineering) and CEO Herik Rosendahl.
"The issue for them was, they were going to be hard-pressed to convince companies to buy that kind of software from a startup," Gacek said. "But the software is complete. We like how it can be supported and it fits well with what we're doing with DXi."
VMware is the only hypervisor that Pancetera supports. A Quantum spokesperson said there has been no decision yet on whether it will expand it to other hypervisor platforms.
Gacek, who replaced Rick Belluzzo as CEO in April, said the acquisition and the hire of Ted Stinson as senior VP of worldwide sales Monday shows "we're in growth mode and we'll be aggressive about making change."