News
Stay informed about the latest enterprise technology news and product updates.
Quantum partners with Amplidata for object storage
Quantum will add object storage as a tier on top of its StorNext file system with the help of an OEM deal with startup Amplidata.
Quantum revealed the OEM deal Wednesday, and said it will have a new family of disk systems with the object storage later this year.
CEO Jon Gacek said Amplidata will eventually become part of Quantum's cloud architecture, but a "big data" appliance will be Quantum's first product using the technology. That product will incorporate object storage as a tier on a device running StorNext. Quantum is targeting petabyte-scale content and data analytics with the product.

Download this free guide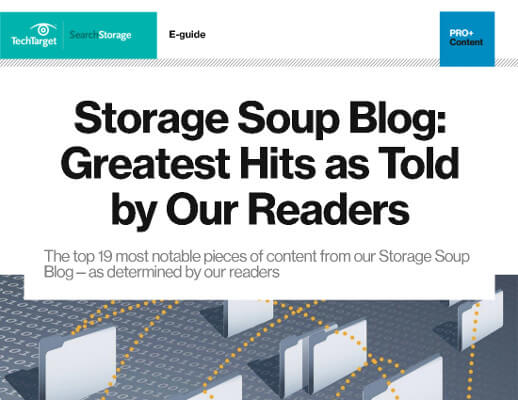 Can't get enough Storage Soup?
We understand! That's why we've compiled the most viewed blogs from 2018 for you in this easily downloadable PDF. From technologies like hyper-converged clouds and TLC 3D NAND to new launches from HPE and NetApp's cloud-flash pivot, our editors have you covered.
"The first incarnation will show up as a tier underneath StorNext," Gacek said. "Some customers will use it with tape, and some will use it to replace tape."
Gacek said Quantum looked at several object-storage vendors but picked Amplidata because of its performance and the way its BitSpread erasure coding algorithm disperses data to guarantee accessibility.
"Amplidata's performance is very strong," Gacek said. "More important to me is Amplidata's ability to do bit spreading to protect data and expand that to geospreading data, opposed to doing RAID and replication. That really lowers the cost of archiving."