News
Stay informed about the latest enterprise technology news and product updates.
Quantum-Riverbed bout ends with $11M handshake
Backup vendor Quantum and WAN optimization specialist Riverbed Technology dropped their respective data deduplication patent lawsuits against each other this week, with Riverbed agreeing to pay Quantum $11 million. Both sides dropped all claims and agreed not to file more data deduplication patent suits against the other.

Download this free guide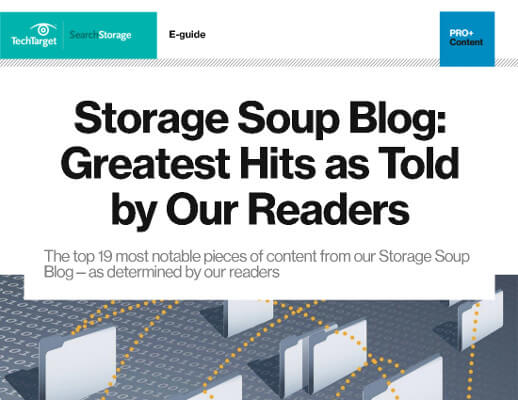 Can't get enough Storage Soup?
We understand! That's why we've compiled the most viewed blogs from 2018 for you in this easily downloadable PDF. From technologies like hyper-converged clouds and TLC 3D NAND to new launches from HPE and NetApp's cloud-flash pivot, our editors have you covered.
The legal scuffle began in October when Quantum charged Riverbed with infringing on a dedupe patent granted to Rocksoft in 1999 and later acquired by Quantum through an acquisition. Riverbed countered in November with its own suit, charging that Quantum's dedupe products infringe on a Riverbed patent.
From here, the settlement looks like a draw. Quantum got paid, but didn't get Riverbed to stop using the technology in its WAN appliances as it tried to do in its suit. Such a judgment would have cost Riverbed at lot more than $11 million.