News
Stay informed about the latest enterprise technology news and product updates.
Overland gets $9 million in financing, expects more
Overland Storage's employees and partners received an early Thanksgiving present last Wednesday when the struggling tape and disk vendor secured financing for up to $9 million of its domestic accounts receivable.

Download this free guide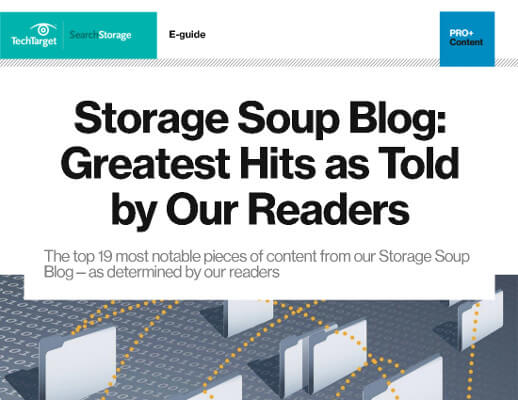 Can't get enough Storage Soup?
We understand! That's why we've compiled the most viewed blogs from 2018 for you in this easily downloadable PDF. From technologies like hyper-converged clouds and TLC 3D NAND to new launches from HPE and NetApp's cloud-flash pivot, our editors have you covered.
Marquette Commercial Finance will finance Overland's accounts receivable. Accounts receivable financing means Overland will sell its invoices for a percentage of their total value to generate immediate cash. CEO Vern LoForti says Overland will determine how much of its domestic accounts it will sell to Marquette, up to $9 million. He also says Overland is negotiating another deal to finance its international receivables.
In its last quarterly earnings filing with the SEC, Overland revealed it might miss payments to vendors, liquidate assets and suspend some operations if it did not get financing in November. Overland was looking for $10 million.
"There was a lot of anticipation about this announcement," LoForti says. "A lot of people were watching for this."
Now that Overland can pay its bills, it will concentrate on marketing the Snap NAS business it acquired from Adaptec in June. LoForti hopes the NAS business becomes profitable by the first quarter of next year.
"We're in the middle of a lot of big deals for Snap," LoForti says. "We're pushing it for video surveillance, which is a big market."
He also sees Overland's REO VTL as a potential growth area, but Overland is far from home free. The company lost $6.9 million last quarter and laid off 53 employees – 13% of its staff – in August. LoForti says no other staff reductions are planned now, although he won't rule out more.
"We're watching things closely, and prepared to do more if we need to," he says, pointing out his rival Quantum's cuts announced last week.