News
Stay informed about the latest enterprise technology news and product updates.
Overland builds higher performance, snapshots into its GuardianOS
Overland Storage has upgraded its GuardianOS operating system, which powers its SnapServer Dx1 and Dx2 NAS, to make its devices more compatible with Windows in mixed environments. The upgrade is also designed to boost performance, and includes a new BitTorrent-powered sync-and-share feature for mobile devices.

Download this free guide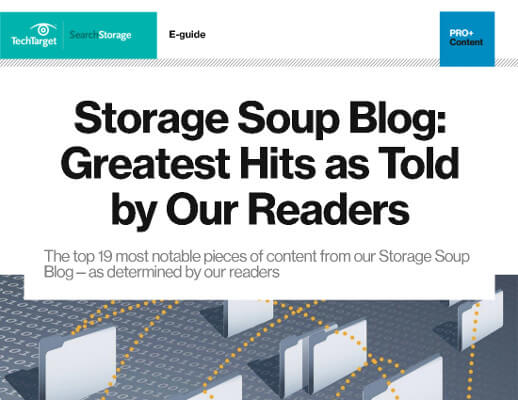 Can't get enough Storage Soup?
We understand! That's why we've compiled the most viewed blogs from 2018 for you in this easily downloadable PDF. From technologies like hyper-converged clouds and TLC 3D NAND to new launches from HPE and NetApp's cloud-flash pivot, our editors have you covered.
The GuardianOS integrates replication, thin provisioning, snapshots, backup, file sharing and security for the SnapServer Dx1 and Dx2. The Dx1 is a 1U system that scales to 160 TB while the Dx2 is a 2U server that scales to 384 TB.
The software Windows-only Tree improves permission handling and authentication in Windows and Mac mixed environments. Each time a Window or Mac user opens a file, the updated file will be written with Windows data attributes. Typically, a Mac system will switch the data attributes when a file is open for updates.
"They will remain in Windows attributes because you want to keep a certain attribute type," aid Jeremy Zuber, Overland's product marketing manager. "If attributes are flip-flopped, you can run into issues."
The GuardianOS also has been enhanced with the Lightweight Directory Access Protocol (LDAP), allowing administrators to set permissions and specify access to directories through name lookup to and from a unique user identifier (UID). The software also uses Server Message Block (SMB) 2.0 for improved read and write performance for Windows clients and servers when accessing SnapServer storage.
The operating system's snapshot capability has been upgraded for higher performance with a more efficient copy-on-write process.