News
Stay informed about the latest enterprise technology news and product updates.
Oracle upgrades ZFS Storage Appliances
Oracle's big storage product launch at Oracle OpenWorld today wasn't much of a surprise. It rolled out the next generation of its ZFS Storage Appliance line, bumping up the speeds and feeds and adding tight integration with Oracle software. That's what Oracle CEO Larry Ellison said the vendor would do back in January, shortly after Oracle acquired Sun. Ellison also said the new unified storage appliances would be announced at Oracle OpenWorld during Oracle's earnings call last week.

Download this free guide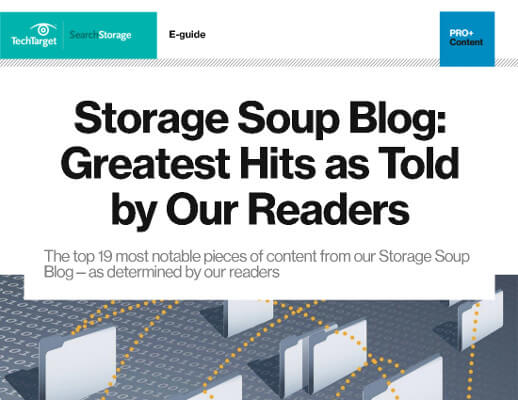 Can't get enough Storage Soup?
We understand! That's why we've compiled the most viewed blogs from 2018 for you in this easily downloadable PDF. From technologies like hyper-converged clouds and TLC 3D NAND to new launches from HPE and NetApp's cloud-flash pivot, our editors have you covered.
The ZFS Storage Appliance is Oracle's name for what Sun called the Sun Storage 7000 series. Today, Oracle replaced the Sun Storage 7110, 7310, and 7410 with the Sun ZFS Storage 7120, 7320 and 7420, and added the 7720 for bulk storage and capacity.
The 7120 is a 2U system for SMBs and departments, and scales to 120 TB with two shelves of 2 TB SAS drives. The 7320 is a 1U configuration that can be clustered for high availability, and scales to 192 TB with four disk shelves. The 7420 3U system scales to 1.15 PB with 24 disk shelves and the 7720 is a 42U device that scales to 720 TB in one chassis. All the systems support solid state drives (SSDs), and they range from four Intel processing cores for the 7120 to 32 cores for the 7420 and 7720.
The appliances also include Oracle RMAN backup, Oracle Database Cloning, and Oracle Fusion Middleware for backup and recovery of Oracle apps, and are optimized for Oracle Applications, Oracle Database, Oracle Solaris, Oracle Linux and Oracle VM.