News
Stay informed about the latest enterprise technology news and product updates.
NetApp keeps flash plans under wraps
Like EMC, NetApp executives say they expect to offer flash in many areas of their storage systems. But NetApp so far only sells flash as a cache in storage arrays (Flash Cache), and solid state drives (SSDs) that can complement hard drives in a hybrid approach.

Download this free guide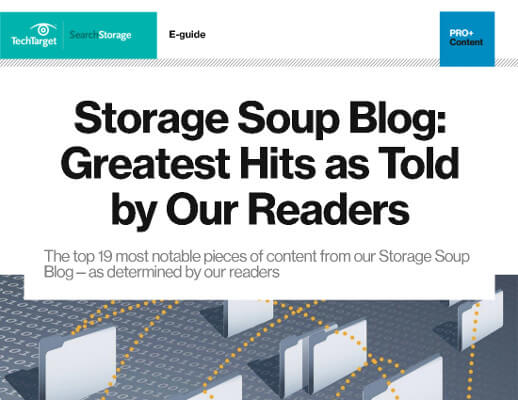 Can't get enough Storage Soup?
We understand! That's why we've compiled the most viewed blogs from 2018 for you in this easily downloadable PDF. From technologies like hyper-converged clouds and TLC 3D NAND to new launches from HPE and NetApp's cloud-flash pivot, our editors have you covered.
EMC has a VFCache server-side PCIe card, and its roadmap includes a PCIe-based shared storage appliance and all-flash array — all pieces NetApp lacks. And while EMC predicts a hybrid implementation of SSD and hard drives in the same system will be the most popular, NetApp maintains Flash Cache is the best way to go. NetApp is also more guarded about its flash roadmap than EMC.
"We have consistently said that flash will be deployed throughout the hardware stack, and our flash offerings will be aggressive and multi-faceted," NetApp CEO Tom Georgens said on the vendor's earnings call this week. "Our belief is that offering flash primarily in the form of the cache is the most efficient and effective way to deploy this technology in storage arrays, and most of the industry is now following this approach."
Georgens said all NetApp FAS6000 systems have 500 GB of flash embedded, and most FAS3240 and3270 arrays ship with flash. "Our R&D pipeline contains projects to further the use of flash on other layers of the stack, and our next release of OnTap [NetApp's operating system] will contain additional flash-related offerings," he said.
NetApp executives visited XtremIO's Israeli headquarters before EMC grabbed the all-flash array startup for $430 million. An analyst on the call suggested EMC outbid NetApp for XtremIO as it did for Data Domain three years ago, but Georgens would not confirm that NetApp wanted XtremIO.
"Obviously, we spend time with a lot of people and visit a lot of people, talk to a lot of people about potential engagements," he said. "As far as flash goes, I see that as an innovation and a way to promulgate our data management capability. And that's going to be the key part of our strategy. So I think you'll see NetApp participating in flash on multiple dimensions, and primarily, it is to expand our data management footprint."