News
Stay informed about the latest enterprise technology news and product updates.
NetApp embraces CDMI standard in its object storage
With its release of StorageGRID 9 object storage software today, NetApp becomes the first major storage vendor to support the Cloud Data Management Interface (CDMI) standard.

Download this free guide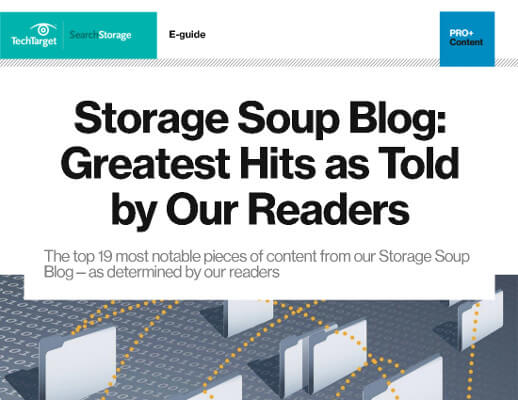 Can't get enough Storage Soup?
We understand! That's why we've compiled the most viewed blogs from 2018 for you in this easily downloadable PDF. From technologies like hyper-converged clouds and TLC 3D NAND to new launches from HPE and NetApp's cloud-flash pivot, our editors have you covered.
CDMI is a Storage Networking Industry Association (SNIA) standard for creating and managing data in the cloud, which is not exactly awash in standards. As explained here, CDMI lets users tag data with metadata that tells a cloud provider the services it should provide for that data. It will define the interface that applications will use to create, retrieve, update and delete data elements from the cloud. If the standard becomes widely implemented among cloud providers, it will make it easier for organizations to move data between clouds.
NetApp acquired Bycast for the StorageGRID software in 2010, and this is its first major release since then. StorageGRID is still used largely by healthcare as a repository for patient records. NetApp makes StorageGRID available along with the vendor's E-Series arrays in its Distributed Content Repository storage system.
Richard Treadway, NetApp's director of marketing for big data solutions, said CDMI support will enable developers to distribute content repositories without using proprietary APIs.
NetApp's CDMI isn't a big deal yet, because no cloud storage providers or other major storage vendors support it. It will require industry buy-in to become valuable. And standards often take a painfully long time to gain traction in storage.
"Is this another standard that no one's going to pick up?" Treadway asked. "We believe it will become the standard for moving data in and out of the private cloud or public cloud. We think it also will be the standard for moving and accessing all large sets for big data applications."