News
Stay informed about the latest enterprise technology news and product updates.
Mendocino Software, R.I.P.
Not all storage startups either went public or got acquired for big bucks over the past two years. Mendocino Software sold little of its continuous data protection (CDP) software and found no takers for its intellectual property, so Wednesday it sold whatever was left at auction.

Download this free guide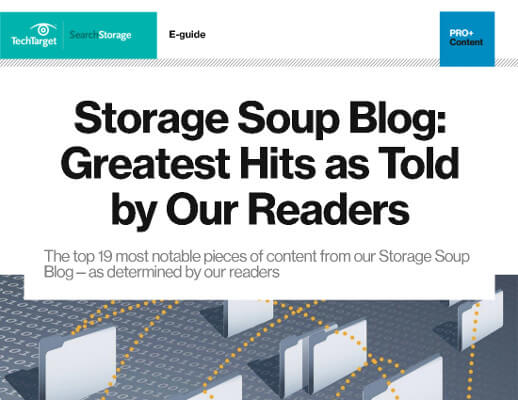 Can't get enough Storage Soup?
We understand! That's why we've compiled the most viewed blogs from 2018 for you in this easily downloadable PDF. From technologies like hyper-converged clouds and TLC 3D NAND to new launches from HPE and NetApp's cloud-flash pivot, our editors have you covered.
Mendocino did have five customers through an OEM deal with Heweltt-Packard, which rebranded Mendocino's product as HP StorageWorks CIC.
According to an email HP sent to SearchStoage.com today, "HP has assigned a task force and is working closely with each of its five HP CIC customers to understand their specific information availability requirements and to determine an appropriate plan of action."
According to the email, HP is offering to switch CIC customers to HP Data Protector at no charge for the software and installation, and will transfer CIC support contracts to Data Protector.