News
Stay informed about the latest enterprise technology news and product updates.
Meet Drobo. Could it be the RAID of the future?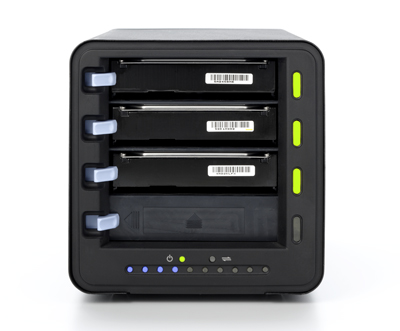 Data Robotics, a new storage startup just coming out of stealth, has announced both itself and its first product today. Data Robotics was formerly working under the name Trusted Data, and is a venture led by BlueArc founder Geoff Barrall. The product is a consumer storage unit called Drobo that Data Robotics says it intends to scale up into the enterprise market.
Why should you care? Because if Data Robotics has its way, Drobo could change the concept of RAID storage.
Here's how it works: the Drobo box, a black cube that will fit on a desk, contains four disk bays. Any SATA disk drives from any manufacturer of any size can be added and the box will automatically stripe data across them; the box uses no management software, and instead has a system of lights which show red, yellow or green. If it's red, replace the disk. If it's yellow, the disk is filling up. Green and all is well.
When disks fill up, they can be swapped out for a larger size and data is restriped automatically, using RAID levels that change according to the disk capacity left over. For example, in a system with a 120 GB, 250 GB, 500 GB and 750 GB drives installed, 120 GB of each disk would use RAID 5 striping in a 3 + 1 configuration. As the 120 GB drive fills up, the system would put the remaining capacity into a 2+1 configuration, and then finally into a mirrored pair (in case you're doing the math at home, the final 250 GB of the 750 GB drive would remain empty in that scenario).
Data Robotics president Dan Stevenson said the system was designed for the non-technical customer–it could perhaps even be termed the extremely non-technical customer. Hence the lights. "If you can figure out a traffic light, you can figure out how to manage this storage box," Stevenson said.
Of course, you may have to understand a bit more than that to know that you shouldn't take the 750 GB drive out to replace it without enough capacity left in the remaining disk slots to absorb the data while it's missing. And Stevenson said so far Drobo isn't pursuing any distribution deals with Best Buy, instead presenting this as an alternative to homegrown RAID arrays for Bit-Torrent addicted power users or "prosumers", professional digital photographers, and small businesses where, to quote Stevenson, "the IT guy is Frank's son."
One such company is Michael Witlin Associates (MWA), a five-man company that produces corporate events in Silicon Valley. Its owner, namesake and executive producer received a free eval copy of Drobo and says it's been humming along nicely in the few months he's tested it, in contrast to a Maxtor-drive-based RAID 5 array he struggled to manage. Every so often partitions on that array would "drop off" in Witlin's user interface, "And I could never figure out what the problem was," he said. Drobo plugs in via USB 2.0–something Witlin said he prefers–and "there's nothing I have to do after that."
Meanwhile, Data Robotics is aiming to take its approach to RAID to the big time. Stevenson envisions a Drobo-ruled utopia in which lower-paid "Tier 3" IT admins also manage Tier 3 nearline storage, automatically striped using Drobo's RAID method, who merely need the expertise to observe and act on a red, yellow or green light.
"Their algorithms could have a huge impact on enterprise storage, as well," wrote Brad O'Neill, senior analyst with the Taneja Group in an email. "If you can begin to create heterogeneous arrays right down to the drive level, with no interruption of availability or performance, you've done something extremely disruptive to the market–capacity upgrades would become the equivalent of simply plugging in drives, waiting for a green light, then adding more. I could imagine large service providers using drive robots running swaps and upgrades not unlike tape robots do today. "
In the interest of full disclosure, O'Neill's not just an enthusiastic supporter of Drobo's vision, but also of their bottom line: "I have a Drobo plugged into my laptop right now via USB providing 700 gigabytes of…storage…with four different drives of varying capacities and vendors," O'Neill confessed. "I [also] bought four of them and gave them to my friends."
(His friends are probably used to those special Christmases with Brad…)